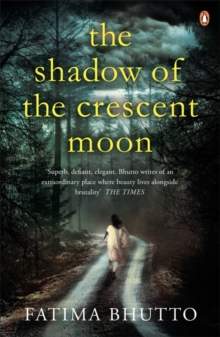 The Shadow of the Crescent Moon
Paperback
Description
Fatima Bhutto's stunning debut novel The Shadow of the Crescent Moon begins and ends one rain swept Friday morning in Mir Ali, a small town in Pakistan's Tribal Areas close to the Afghan border.
Three brothers meet for breakfast. Soon after, the eldest, recently returned from America, hails a taxi to the local mosque.
The second, a doctor, goes to check in at his hospital.
His troubled wife does not join the family that morning.
No one knows where Mina goes these days. And the youngest, the idealist, leaves for town on a motorbike.
Seated behind him is a beautiful, fragile girl whose life and thoughts are overwhelmed by the war that has enveloped the place of her birth.Three hours later their day will end in devastating circumstances.The Shadow of the Crescent Moon chronicles the lives of five young people trying to live and love in a world on fire.
Individuals are pushed to make terrible choices. And, as the events of this single morning unfold, one woman is at the centre of it all.'A first novel of uncommon poise and acuity, The Shadow of the Crescent Moon is set in an old and protracted war for land and dignity.
But its swift and suspenseful narrative describes a fiercely contemporary battle in the human heart: between the seductive fantasy of personal freedom and the tenacious claims of family, community and history.' Pankaj MishraFatima Bhutto was born in Kabul, grew up in Damascus, and lives in Karachi.
This is her first novel.
Information
Format: Paperback
Pages: 240 pages
Publisher: Penguin Books Ltd
Publication Date: 27/02/2014
ISBN: 9780241965627
Free Home Delivery
on all orders
Pick up orders
from local bookshops
Reviews
Showing 1 - 1 of 1 reviews.
Review by jayne_charles
27/08/2015
I so desperately wanted to understand the motivations of the characters in this book. Set in a remote and troubled village in the north of Pakistan, I was hoping it would provide the sort of perspective on world events that you don't get from watching the news. Whilst many elements of it were illuminating, there were some puzzles I couldn't solve. Referring to the 9/11 bombers, one character says "to us, they were heroes", and yet given a chance to leave Pakistan, he chooses to study in the USA. On the one hand they see Afghans as their brothers, and would rather be part of Afghanistan (if I got that bit right) and yet the Talibs hardly prove to be friends of theirs. I read the story with a nagging feeling that I wasn't understanding it right, and as I said, I desperately wanted to. Maybe it just proves how complex the issues really are.