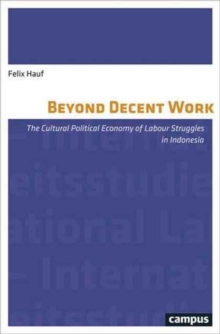 Beyond Decent Work : The Cultural Political Economy of Labour Struggles in Indonesia
Paperback / softback
Description
Beyond Decent Work explores the history of the Indonesian labor movement, using three contemporary case studies to shed light on the development of Indonesia's labor struggles and trade union strategies.
Drawing on extensive and recent qualitative fieldwork, Felix Hauf argues that the economic idea of "decent work" plays a central role in current trade union strategies at the expense of more radical--or traditional working-class--strategies of industrial action, even though the latter have been more effective in fulfilling workers' demands for higher wages and better working conditions.
Hauf's analysis offers unique insight into the labor dynamics of Indonesia and Southeast Asia more broadly, revealing how genuinely democratic and independent unions--confronted with rival unions controlled by businesses, Indonesian subcontractors, multinational corporations, and the Indonesian state--struggle to create an economy outside the confines of neoliberal capitalism.
Information
Format: Paperback / softback
Pages: 240 pages, 7 halftones, 3 tables
Publisher: Campus Verlag
Publication Date: 24/03/2017
Category: Central government policies
ISBN: 9783593506449