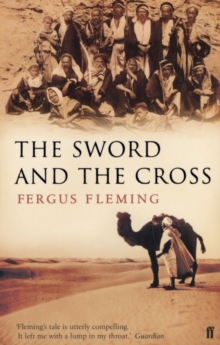 Sword and the Cross
Paperback
Description
The Sahara was the missing link in France's African Empire.
The Sword and the Cross is the story of two fanatical adventurers who helped complete their country's imperial conquest. Viscomte Charles de Foucauld was a sensualist who lounged in bed eating foie gras with a silver spoon.
Henri Laperrine was a stern perfectionist who lived only for soldiering.
Each of them found his vocation in the desert: Foucauld found religion and an asceticism so great that even Trappism seemed too comfortable; Laperrine formed a legendary camel corps to pursue the Tuareg nomads across the desert.
By 1910, the Sahara had been won - but as Europe lurched towards war in the years after, both men were to pay a terrible price.
Weaving together hatred and friendship, self-sacrifice and utter self-delusion, The Sword and the Cross is a brilliant story of a forgotten episode in Europe's colonial history.
Information
Format: Paperback
Pages: 368 pages
Publisher: Faber & Faber
Publication Date: 06/05/2004
ISBN: 9780571221899
Free Home Delivery
on all orders
Pick up orders
from local bookshops
Reviews
Showing 1 - 2 of 2 reviews.
Review by thequestingvole
16/06/2015
The Sword and the Cross is the chronicle of two men, Charles de Foucauld and Henri Lapperine, who devoted their lives to the conquest of the Sahara for France and Christianity.France had seized northern Africa in a series of campaigns that began in the 1830s. Algeria and Tunisia were conquered on the initiative of the men on the ground rather than as part of an organised colonial policy directed from Paris. As a result, France ended up with territories that were economically poor and indefensible except by adopting a "forward policy". A "forward policy" meant keeping the hostile Berber and Taureg tribes back from the economically rich north (described by Fleming as the fertile Kepi that sits upon the great bald head of the Sahara) by pushing the colonial border south. This in turn created a new line of equally weak forts and garrisons that were more difficult to supply and more vulnerable to attack. To defend this forts and prevent raids, the border would be pushed south again...In a time when colonies were a matter of national prestige and no colony could be relinquished without shocking loss of face, both Lapperine and de Foucauld were determined to gain control of the Sahara for France. Lapperine was a career soldier, a hardened desert explorer who raised a camel corps to fight the Toureg on their own terms and who out of communication with Paris for weeks, often months at a time, played the part of warrior king, diplomat and lawmaker with skill and verve. It it through the career of Lapperine, that Fleming recounts the history of the French army in the Sahara. It is a terrible history of suffering, courage, atrocity and counter atrocity as the French administration attempt to gain the international respect attendant on the ownership of colonies, while avoiding the responsibility they bring, while all the while Lapperine is dragging the tricolour further and further south.In many ways, de Foucauld is the more interesting subject. As a young man, he was also a soldier, the spoiled eldest son of minor nobility, who died young leaving him to be raised by his uncle, a retired colonel. His early years are a catalogue of gluttony, indulgence and excess, but he underwent a sort of spiritual journey when he was posted to the Sahara and left the army to become an explorer and later a monk. But despite this, he never ceased being an imperialist. De Foucauld saw himself as an agent of French power in the Sahara and closely identified the power of France with the power of Christianity. To a twenty first century reader, used to an entirely secular state and to a clergy that wants nothing to do with the state*, this is shocking stuff.Flemings book is a deftly written portrait of two men and an imperial project, which both educates and entertains. While the "Great Man" theory of history is no longer approved of, it's one that I have a great deal of time for. You can do a great deal worse if you want to learn about the conquest of the Sahara than read this fine biography. *At least in my experience.
Review by DinadansFriend
23/09/2015
Biographies rather than history, dealing with the expansion of France into the Sahara, as compensation for the poor showing in the Franco-Prussian War. The men were Charles de Foucauld and Henri Laperrine, two of the extreme imperialists. A useful book for those used to British Colonialism, for the differences in approach by this second power. Definitely there is not much of Beau Geste here, but an educational experience.