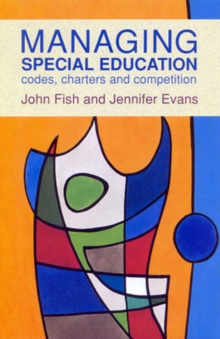 Managing Special Education
Paperback / softback
Description
How can the educational and other special needs of children and young people with disabilities and/or significant learning difficulties be met by policies which emphasise competition, market forces and short term financial planning?This is the key issue which concerns Managing Special Education.
The book discusses a number of persistent and unresolved issues about the relationship of special education to primary, secondary and further education.
Local management of schools and colleges and increased parental choice has created new and difficult market conditions for special educational provision.
Increased choice costs money and the more special the need, the greater the cost.
How will responsibilities delegated to schools and colleges ensure that children, young people and adults with disabilities and learning difficulties have reasonable access to quality educational opportunities given that the market system provides no incentives for schools and colleges to provide higher cost minority provision unless it is self financing?This book is both topical and forward looking.
It concludes with a possible agenda for the future which identifies both issues to be resolved and management tasks from central government to school and college level.
Free Home Delivery
on all orders
Pick up orders
from local bookshops