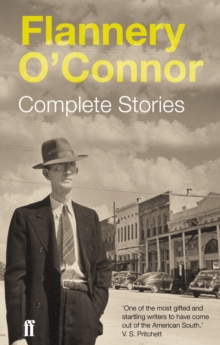 Complete Stories
Paperback
Description
This is the complete collection of stories from one of the most original and powerful American writers of the twentieth-century.
Including "A Good Man is Hard to Find" and "Everything That Rises Must Converge", this collection also contains several stories only available in this volume.
Information
Format: Paperback
Pages: 576 pages
Publisher: Faber & Faber
Publication Date: 02/04/2009
Category: Short stories
ISBN: 9780571245789
Free Home Delivery
on all orders
Pick up orders
from local bookshops
Reviews
Showing 1 - 2 of 2 reviews.
Review by sarah_rubyred
16/06/2015
Often hilarious observations on life as she must have seen it, probably more incredible now, but unfortunately just as relevant.Actually, I would probably invite this lady to my ultimate dinner party.
Review by AdonisGuilfoyle
16/06/2015
I usually find short stories unsatisfying, 'stunted novels' that are over before the characters can develop, but Flannery O' Connor's writing has opened my eyes to how the right words used effectively are far more powerful than a novel's worth of page-filling dialogue and description. She really mastered the art of capturing a character perfectly in a paragraph or two, so that the reader is aware of their backstory and can view the story from their perspective, though not always in sympathy with their thoughts and actions. Whether old or young, male or female, parent or child, O'Connor projects human fantasies and fears via the introspection of her characters, who go through the ugly, petty and cynical emotions and moods that we can all relate to but few will admit to. The gothic dramas played out in some of the stories, particularly those that form part of her novel 'Wise Blood', may be far from common experience, but the characters and their feelings are very real - the isolation of the old man in 'The Geranium'/'Judgement Day', the frustration of Mrs Cope in 'A Circle in the Fire' and self-destructive jealousy of the son in 'The Comforts of Home'.Flannery O'Connor's thirty-one short stories, written over twenty years until her death in 1964, tackle larger themes such as religion and segregation through the personal dilemmas of single characters. Her approach is direct and unflinching, but without being obvious - I was rather worried about the religious undertone of her writing, but she wasn't trying to correct or instruct, only illustrate. The 'n' word crops up so often that her stories have no doubt been nominated for the banned books list in the US, but the use of racial slurs by that isolated breed of poor ignorant southerners left behind by the twentieth century only insults the narrator, not the reader. I view novels and stories like this not as a continuation or commendation of the past, but as a warning to contemporary readers; nor do I believe that Flannery O'Connor, a native of Georgia, was criticising or stereotyping all southerners as old-fashioned, proud and narrow-minded, but she was probably writing from experience. 'The Geranium', 'The Artificial Nigger', and 'Everything That Rises Must Coverge' deal with racial segregation and tensions, but 'Greenleaf' and 'Revelation' are also about social prejudice, and 'The Displaced Person' refers to the Holocaust in Europe. There is so much hidden depth in this collection, and every story really made me think. My favourites, if it is possibly to choose, are the more 'ordinary' tales - 'A Stroke of Good Fortune', 'A Good Man is Hard to Find' (for the shocking yet oddly satisfying ending), General Sash in 'A Late Encounter with the Enemy', the little boy 'Bevvvuuuul' in 'The River', the horrible children in 'The View of the Woods' and 'The Lame Shall Enter First', and 'The Crop', as a study of the writer at work. Flannery O'Connor also has a talent for similes that I admire - eyes like silver fish caught in a net of red threads, and 'he seemed mute and patient, like an old sheep waiting to be let out'. Wonderful - a lesson in writing, and a joy to read.