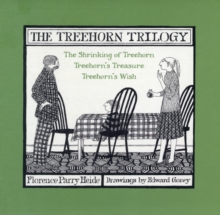 Treehorn Trilogy the A200
Hardback
Information
Format: Hardback
Pages: 192 pages
Publisher: Pomegranate Communications Inc,US
Publication Date: 15/06/2011
Category: Stationery items
ISBN: 9780764959585
Free Home Delivery
on all orders
Pick up orders
from local bookshops
Reviews
Showing 1 - 5 of 9 reviews.
Previous | Next
Review by PitcherBooks
16/06/2015
I originally wanted the Treehorn Trilogy because I love Gorey's artwork. I had never heard of Heide before. Thank God that's been remedied! An absolutely wonderful pairing of author and illustrator. Heide set this trilogy in the 1970s-1980s (unlike Gorey's preferred Edwardian era) but demonstrates her own brand of wry, understated, off-the-wall wit that shows she's a master of comedic writing in her own right. Each book is an absurdly deadpan little gem of surreal humor and fantasy. The hero of all three books is a young boy named Treehorn. Each book takes "a day in the life" wherein, despite the total mundanity of Treehorn's young life, a fantastic and inexplicable magic event occurs to him which he must figure out (ah, the mystery!). He always seeks his parent's insight first but, alas, his very busy parents barely notice him or his predicaments. Treehorn appears so used to his parent's bland and blatant though benign neglect of him that he does not fuss or pout but accepts it as the normal course of his life and goes calmly about his business. 1. The Shrinking of Treehorn. The poor lad wakes up one day and discovers he can no longer reach a shelf in his closet and his clothes are now all too large. Hmm. Mom? Too bad, dear, I hope this cake doesn't fall. His parent's take when they finally do notice? Why would our son want to do that? And everyday he's a touch smaller. His best friend's opinion is that shrinking is a stupid thing to do. On the school bus, in class, during recess, at the Principal's office ~ no one gets excited over this startling turn of events. Least of all, Treehorn. Of course, he eventually figures out the wonderful bit of whimsy which is both the cause and the cure. (But I'm not gonna ruin it for you :-)2. Treehorn's Treasure. Treehorn thoroughly enjoys comic books and the treasures listed in them that can be purchased with a coupon and a bit of change. Come to think of it, Dad owes him his allowance today. Does he? Dad is all about adages and proverbs. Save your money, son, it doesn't grow on trees. Reluctantly, Treehorn agrees. And deposits his dollar bill in a hole in their backyard tree for safe-keeping. Apparently a dollar bill placed in the interior of a tree will inspire it to quickly produce leaves that look just like dollar bills. Treehorn notices that some are ripe for the picking while other are still growing. Of course, he mentions this in turn to his mother, the house painter, the candy shop clerk, his Aunt Bertha and his father to little notice. A phlegmatic bunch to say the least. However, $26 buys a lot of comic books and candy. All good things must come to an end. How, when and why? Does it matter? Treehorn lives in the moment, takes life as it comes, has no regrets ... and a bunch of new comics :-)3. Treehorn's Wish. It's Treehorn's birthday and hope springs eternal. He clears a space in his closet, just in case, to store all the many presents he might receive. He might get a TV today. Dad has to pay bills. Mom has to buy a new hat. Treehorn wonders if his parents might have a dog or a horse for him. When he heads outside to check all he finds is an old dirty jug. As he cleans it, a genie appears who Treehorn mistakes for the meter reader. His first wish... a birthday cake. Voila. And he has two more. Decisions, decisions. As usual, he shares the story of the genie and his pending wishes with all and sundry to little avail. Treehorn's tales of the marvelous are consistently and bizarrely underwhelming to his listeners. And therein lies the humor. Delightful reads all :-) The physical set of books: High quality paper, printing, art reproduction and binding. Sturdy hardboard slipcase. I have never had any qualms about buying from Pomegranate. While the set is a touch pricey, you get the commensurate value in book quality. In this case, you truly get what you pay for. And that's high praise from a value shopper and book lover like me.
Review by book_in_hand
16/06/2015
When I requested these books I had no idea how wonderful they would be! I thought I'd receive a paper pack copy of all three books made into one book. So I was happily surprised when I opened the package and found a gorgeous box set with hardback copies. I love Edward Gorey's books and illustrations, it's really awesome that these are in my collection! All three books are about Treehorn, who has interesting adventures and oblivious parents. Poor guy can't win. I wanted to get in the books and shake his parents, and throw Treehorn an amazing birthday. :)
Review by CDVicarage
16/06/2015
This is a lovely set of books, supplied in a strong display box so that it will look very nice on your shelves even if you don't read them. However I'm sure you would want to read them.From an adult's (well from this adult's) point of view the stories are a little disturbing - Treehorn's parents are neglectful, but I'm sure that if I had read them as a child I would have loved the idea of the competent child managing better than the adults around him.The illustrations, too, are lovely and an important part of the stories.My children are grown up now I shall have to save these for my potential grandchildren.
Review by souloftherose
16/06/2015
This is a beautiful collection of the three Treehorn books reissued by Pomegranate Kids. The stories are told with a wry sense of humour that I think both adults and children will enjoy and are also wonderfully illustrated by Edward Gorey. Essentially, Treehorn's parents are so caught up in their own grown-up world of money problems and new curtains that they barely even notice when their only son starts shrinking or tells them that money is growing on the tree in the garden or that there's a genie sitting on the kitchen table.I was originally intending to pass this set on to some friends who have young children but they're so lovely that I think I'm going to end up keeping them myself.
Review by eleanor_eader
16/06/2015
I'm a huge fan of Edward Gorey's dense, quirky illustration (you can't <i>not</i> fall in love with <i>The Gashlycrumb Tinies</i>, with its macabre whimsy and gleeful rhyming and depictions of ridiculously endangered tots) but I'm not sure that his line drawings add much to Heide's already straightforward story-telling; her Treehorn trilogy finds young Treehorn in a variety of odd situations (I'm particularly charmed by <i>The Shrinking of Treehorn</i>), but her pragmatic approach set next to Gorey's depictions of Treehorn's parents in the kitchen, for example, renders these otherwise charming little books into something almost dull – or, at least, something to which you have to be attuned to the surreality of, in order to fully appreciate. And therein lies my problem with the set – these are children's books, but I have no sense of what age to which they would appeal. Perhaps it's more a personality fit than an age-group fit. Imaginative children might find the patterned line-drawings and quietly understated stories a canvass on which to paint their own atmosphere.Enjoyable storytelling, a lovely set, but one I would have trouble gifting among the children-of-various-ages of my acquaintance. I suppose I shall just have to keep – and enjoy them – to myself. So sad ;)