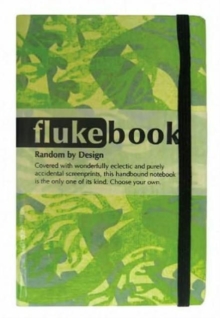 Fluke Book small Ruled
Paperback / softback
Description
The only notebook that is as unique on the outside as whatever you choose to scribble inside, each flukebook is covered with a fusion of eclectic prints and colours, totally original and knock-out gorgeous.
Every cover is stamped "Edition 1 of 1" and it's true - you'll never find one flukebook exactly like another.
They're impossible to reproduce! Flukebooks are stitched and bound by hand to the highest of standards by Tara Books, whose workshop has produced over 120,000 handmade books.
Each flukebook is covered with a distinctive screen-printed test page created during the bookmaking process.
These test pages are themselves works of art, and we were unable to face the idea of throwing away such vibrant experiments!
We decided instead - in the spirit of recycling - to reuse the test pages to cover our notebooks.
Information
Format: Paperback / softback
Pages: 192 pages
Publisher: Tara Books
Publication Date: 03/04/2008
Category: Stationery items
ISBN: 9788186211663