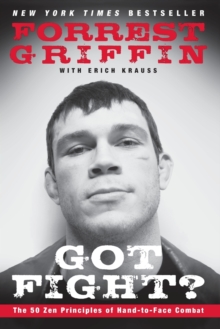 Got Fight? : The 50 Zen Principles of Hand-to-Face Combat
Paperback / softback
Description
A breakout success and a "New York Times" bestseller in hardcover, "Got Fight?" is the uproarious and out of control book from Forrest Griffin, one of the most outrageous personalities in the Ultimate Fight Championship (UFC).
The former light heavyweight champ of the UFC, Forrest is one of the UFC's biggest stars in mixed martials arts, the fastest-growing sport in the world.
Now in "Got Fight?", the man who's been called 'the most popular fighter in the UFC' offers personal stories from inside and outside the Octagon to give readers a glimpse into the mind of a mixed martial artist and illustrate his 50 principles of being a fighter, with topics ranging from mentally preparing before a professional fight to kicking it into high gear when your ring is the street.
Mixing his fighting tips with his own booming personality and his trademark sense of humour, Forrest creates his own unique, self-depricating version of self-help.
In these pages, you will learn about true mental toughness - whether it's scraping it out in the Octagon or picking up chicks.
Information
Format: Paperback / softback
Pages: 208 pages
Publisher: HarperCollins Publishers Inc
Publication Date: 01/06/2010
Category: Combat sports & self-defence
ISBN: 9780061721724
Also by Forrest Griffin