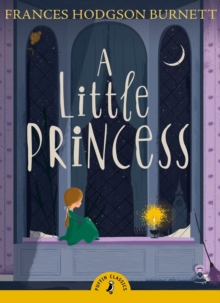 A Little Princess
Paperback
Description
Alone in a new country, wealthy Sara Crewe tries to make friends at boarding school and settle in. But when she learns that she'll never see her beloved father again, her life is turned upside down.
Transformed from princess to pauper, she must swap dancing lessons and luxury for drudgery and a room in the attic.
Will she find that kindness and generosity are all the riches she truly needs? With deeply poignant introduction written by bestselling author of Chinese Cinderella, A Little Princess is one of the twenty wonderful classic stories being reissued in Puffin Classics in March 2015.
Information
Format: Paperback
Pages: 320 pages
Publisher: Penguin Books Ltd
Publication Date: 06/03/2008
Category: Classic
ISBN: 9780141321127
Other Formats
Hardback from £5.79
Paperback from £2.39
CD-Audio from £8.59
EPUB from £2.40
Paperback / softback from £8.75
Free Home Delivery
on all orders
Pick up orders
from local bookshops
Reviews
Showing 1 - 5 of 5 reviews.
Review by anniecase
16/06/2015
As a child I felt almost elegant reading Burnett's delicate prose. The story takes on a magic that way. It has been well-documented in films at this point, but the original text still manages to entertain, delight and inspire new generations.
Review by bleached
16/06/2015
Such a wonderful children's story about a girl who is orphaned at a boarding school and sinks from the richest girl to a servant. Not letting her sad downfall get her down, Sara Crew makes friends with the other servant girl Becky and all the other girls of the school who sneak up to the attic to hear her fantastical stories of magic in India, her previous and beloved home. When real magic starts to encompass her, Sara learns how great friendship and kindness can be with a little magic and a little hope.
Review by faith42love
16/06/2015
I adore this novel and am so very glad I found it. Anyone that has not listened to a librivox recording of some of the mighty classics is missing something very special. I listen while doing mundane chores at home and at work. A Little Princess was a priceless tale that I hope to enjoy for years to come. Like The Secret Garden, this story holds magic, whimsy and important lessons with in it. Frances Hodgson Burnett has quickly and quietly slipped in to hold the title as my Favortie Classic Author.
Review by lmeza
16/06/2015
I simply love it. I declare Frances Hodgson Burnett my favorite classic writer - it all started with The Secret Garden back in the '80s and now I can say she definitely is (!) having completed a second book by her. Love it, love it, love it; there is always light at the end of the tunnel!
Review by catfantastic
27/08/2015
Hmmm…. I never read this as a child, so I don't have the nostalgia-filter on, and I still liked it quite a lot. The writing is smooth, with some lovely turns of phrase and some charming insights. Sarah Crewe starts off as the "princess" of her boarding school. Her father is rich and she is doted on with all the latest fashions and toys and her own private rooms and even her own maid. Yet she is not spoiled, she is generous and kind and her true joy comes in learning and imagining. She makes up fantastical stories to entertain the other girls, takes especial care of a young one named Lottie, and sneaks extra bits of food to the poor little scullery girl. When tragedy strikes, she is left a penniless orphan, reduced to wearing rags, overworked by the school staff who turn cruel - taking out their previous jealousies on her and glorying in her fall from grace. These are her trials, and she struggles to retain her kind and giving nature, to make friends with the rats in the attic and not to give into bitterness, loneliness, cruelty and despair.I'm a bit amused by all the reviews I've been seeing for this book, that either love it or hate it. How can you possibly HATE it? "Sarah" is less a "Mary Sue" and more an archetype, a symbol, a moral lesson for the audience. She is clearly meant to be an <i>ideal</i>, more than she is meant to be a person.And the lessons found herein, to be kind and generous to those you encounter regardless of their station, to conduct yourself like the kind of person you wish to be (i.e. a princess) and to embrace imagination and wonder in the world around you are all timeless, wise lessons for all of us.These are true words of wisdom for any child (or adult):<i>"When people are insulting you, there is nothing so good for them as not to say a word - just to look at them and </i>think<i>. . . . When you will not fly off into a passion people know you are stronger than they are, because you are strong enough to hold in your rage and, and they are not, and they say stupid things they wish they hadn't said afterwards."</i> (p. 147)I have to admit it - I loved Sarah, I was emotionally invested throughout the book and I think it is a classic that still has a lot to offer children (or adults!) who are fortunate enough to find a copy of <i>A Little Princess</i> placed in their hands.
Also by Frances Hodgson Burnett | View all