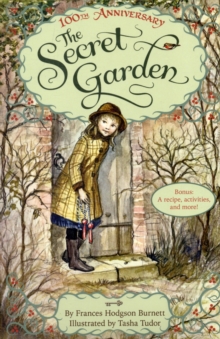 The Secret Garden : The 100th Anniversary Edition with Tasha Tudor Art and Bonus Materials
Paperback
Description
Celebrate an unforgettable classic with this beautifully illustrated 100th anniversary edition.This 100th anniversary paperback includes Tasha Tudor's iconic illustrations, an extended author biography, activities, and more, making it the perfect collector's edition or a wonderful gift for young readers.When orphaned Mary Lennox comes to live at her uncle's great house on the Yorkshire Moors, she finds it full of secrets.
The mansion has nearly one hundred rooms, and her uncle keeps himself locked up. And at night, she hears the sound of crying down one of the long corridors.The gardens surrounding the large property are Mary's only escape.
Then, Mary discovers a secret garden, surrounded by walls and locked with a missing key.
With the help of two unexpected companions, Mary discovers a way in-and becomes determined to bring the garden back to life.
Information
Format: Paperback
Pages: 384 pages
Publisher: HarperCollins Publishers Inc
Publication Date: 30/09/1998
Category: Classic
ISBN: 9780064401883
Free Home Delivery
on all orders
Pick up orders
from local bookshops
Reviews
Showing 1 - 5 of 9 reviews.
Previous | Next
Review by ArmyAngel1986
16/06/2015
One of my favorite childhood books, about a young girl named Mary who is sent to live with her recluse Uncle in England after her parents die in India. She befriends her spoiled cousin and a local common boy, and together they discover an abandoned garden.
Review by foggidawn
27/08/2015
When bad-tempered Mary Lennox is orphaned, she is taken from India to the moors of Yorkshire to live at her uncle Archibald Craven's lonely manor house. The estate holds more than one mystery for Mary to solve, but all of the mysteries hinge on the mysterious walled garden, locked up by Mr. Craven ten years ago. Can Mary find a way to get in? What will she discover there, if she does?I think the thing that keeps me coming back to this book is that it can be read on so many different levels. It has a great plot that is perennially attractive to children -- what child doesn't long to solve a mystery and discover a secret place that is theirs alone? And if you go a little deeper, there's a lot of fascinating character development as Mary goes from someone completely unlikeable to a true heroine. There are interesting themes, like the healing power of nature, the danger of living up to negative expectations, and the importance of human connections. I'm always drawn to this book in the springtime, and I think I always will be, no matter how old I am. Readers of all ages will connect with this lovely story.
Review by name99
16/06/2015
The first in my plan to listen to some children's books, either those I enjoyed as a youngster, or those I heard about but never got round to reading.I know I read this when younger, but remembered nothing of it. This time round, however, I must say I found it charming. There's the reinforcement of the existing political structure you expect in any children's book, so in this Victorian work the fact that some are landed aristocracy and some are servants is never questioned, but beyond that the story is sweet, far from cliched, and would, I imagine, without being preachy, quietly inspire a young reader to try to better him- or herself.
Review by andyle130
16/06/2015
I liked the way Mary changed her additude, on the first time she was mean and crooked all the time but her parents died on a disease in her house so she had to move to an place in Europ in a moor.She found a garden that has been lock up by the house owner because his wife died by falling down a tree. She made friend and grow flowers and made the garden beautiful
Review by eheleneb3
16/06/2015
After both her parents are killed by the cholera in India, ten year old Mary Lennox arrives in England to live at her mysterious uncle's home in Yorkshire. The daughter of an English government official and his socialite wife, she has been both spoiled and neglected all her life and is completely lacking social graces. She's a cold and emotionless little girl; she does not cry when her parents and all her servants die, she never laughs and she is unable to play with children her own age when she has the opportunity. Her new residence, Misselthwaite Manor, is a dark, gloomy place unfit for children. Her only avenue for entertainment is to bundle up every morning and take to the manor's gardens and the gusty, wide-open Yorkshire moors. Being a "sour" and "contrary" child, Mary hates it and sees no value in it.And yet…after several days of being outside in the sunshine and fresh air, she begins to gain an appetite and to sleep better. She begins to look forward to going outside and she makes friends with a crotchety old gardener and a local, Pied Piper-type boy. When she hears a story about a "secret" garden that's been locked up for ten years, she makes it her mission to find a way into the garden and to have a bit of earth of her own. How she finds it and what ensues after she does is the enchanting story of The Secret Garden. It's a simple book, really—It presents the idea of spirituality through nature and friendship and illustrates the effect of the warm sun and fresh air and good food on sickly, neglected children who had no hope of ever being happy. After rereading it I've realized what a substantial influence it has had on my life. It's an excellent book for children and adults alike. Probably best read outside, just as spring is on its way.
Also by Frances Hodgson Burnett | View all