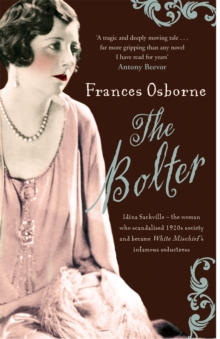 The Bolter : Idina Sackville - The Woman Who Scandalised 1920s Society and Became White Mischief's Infamous Seductress
Paperback
Description
On Friday 25th May, 1934, a forty-one-year-old woman walked into the lobby of Claridge's Hotel to meet the nineteen-year-old son whose face she did not know.
Fifteen years earlier, as the First World War ended, Idina Sackville shocked high society by leaving his multimillionaire father to run off to Africa with a near penniless man.
An inspiration for Nancy Mitford's character The Bolter, painted by William Orpen, and photographed by Cecil Beaton, Sackville went on to divorce a total of five times, yet died with a picture of her first love by her bed.
Her struggle to reinvent her life with each new marriage left one husband murdered and branded her the 'high priestess' of White Mischief's bed-hopping Happy Valley in Kenya.
Sackville's life was so scandalous that it was kept a secret from her great-granddaughter Frances Osborne.
Now, Osborne tells the moving tale of betrayal and heartbreak behind Sackville's road to scandal and return, painting a dazzling portrait of high society in the early twentieth century.
Information
Format: Paperback
Pages: 336 pages, Section: 16, b/w pix
Publisher: Little, Brown Book Group
Publication Date: 29/12/2008
ISBN: 9781844084807
Free Home Delivery
on all orders
Pick up orders
from local bookshops
Reviews
Showing 1 - 5 of 5 reviews.
Review by riverwillow
16/06/2015
The author is the great granddaughter of Idina Sackville and although this is an interesting social history, it is the author's personal interest in her subject which drives this book. Idina is a fascinating and complex character, a member of the Happy Valley set married five times, including to the infamous Earl of Erroll, and with numerous lovers, but is the constant, and almost unwritten, speculation of how her life could have been if she hadn't abandoned her first marriage when her husband when her unhappiness became intolerable which is the facscinating centre of this tale. This first divorce resulted in her separation from her two sons and lead to her being ostracised by elements of society, but did bring her to Kenya, where she eventually settled. The sadness of her life is that she seems to have been one of those women who had potential to be a great mother but circumstance lead to her separation from her three children, although she eventually secured short reconcilations with all three. This is a must read for anyone interested in the history of Happy Valley or white settlers in Kenya.
Review by lizchris
16/06/2015
A revelation for me, I enjoyed this very much. I started thinking she was a silly toff who selfishly abandoned husbands and children, but ended up admiring her and seeing her as a victim of her times. The only frustration is the unevenness of the narrative because there are more letters and witnesses from some of the periods than others. But that's better than the author just making up "missing" bits.
Review by Figgles
16/06/2015
Interesting biography, tragic life. Fascinated to read about the woman who is said to have inspired Nancy Mitford's character "The Bolter" (as well as several other fictional characters), as well as being at the centre of Kenya's notorious Happy Valley set (as dramatised in "White Mischief"). Written by her great-granddaughter this book is a slightly uncomfortable read as the author tries to balance obvious sympathy for the character against her well documented appalling behaviour. Ultimately it's a sad and pathetic tale of a woman who looked for love in all the wrong places. I found it a little over florid in places, but the story kept me hooked until the very end.
The story of Idena Sackville the notorious 'bolter' of Nancy Mitford's The Pursuit of Love. Idena left her two boys after only a few years of lonely marriage to a man she would love all her life but who had totally opposed ideas to Idena of what married life should be. She realises early on that she would lose him and made the decision that she would be the one to leave. To the world she seemingly walks out on her two boys, aged four and three, disappearing to Kenya with a second husband Charles Gordon but, for Idena it had been a struggle that lost her the life she had dreamed of.Kenya holds many promises, many disappointments and many heartbreaks for Idena not least of which are her three subsequent marriages. Her third husband is Josslyn Hay, 22nd Earl of Errol - whose murder was the inspiration for the book and film White Magic in which Idena plays a leading role. Weeks after this tradgedy her first husband, Euan, dies at the early age of fourty-eight - to her immense distrress at having had no opportunity to reconcile their past differences. When Alice de Janze, Joss' ex-wife and Idena's constant friend, committs suicide this proved the end of the Happy Valley set. The life as she had always known it in Kenya was over for Idena.Do take the time to read this immensely interesting and informative book. You will find it as compelling a read as I have.
Review by AdonisGuilfoyle
16/06/2015
Fact is certainly <I>stronger</I> and more captivating that fiction. Pink Carnation author Lauren Willig's latest novel was inspired by the tragi-romantic life of Lady Idina Sackville, but this biography hooked me far more than her fictional twist on the tale. Between Idina's incredible life and great-great granddaughter Frances Osborne's breathless yet sympathetic recounting, this has to be one of the best biographies I have read.Idina Sackville-Wallace-Gordon-Hay-Haldeman-Soltau was either a Bright Young Thing, living the fast and loose lifestyle of the beautiful and privileged during the interwar years - or, I think, a generous yet vulnerable woman who loved to fall in love yet feared to be left behind. The author, surprised to find out at thirteen that she was related to the infamous 'Bolter', is equally biased, but I think that's only fair. The tangled web of affairs, friendships and family ties are difficult to keep straight, and I was shocked by how many of Idina's former friends and lovers chose to end their own lives, yet Idina is more than just a scandalous reputation - Frances Osborne makes her come alive on the page and in the imagination.