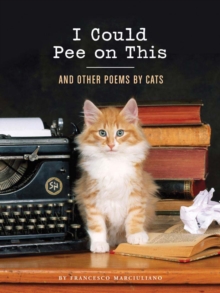 I Could Pee on This : And Other Poems by Cats
Hardback
Description
Cat lovers can rejoice in the quirkiness of their feline friends with these insightful and curious poems from the singular mind of house cats.
In this fully illustrated book of tongue-in-cheek poetry, the author of the internationally syndicated comic strip Sally Forth helps cats unlock their creative potential and explain their odd behavior to ignorant humans, With titles like 'Who Is That on Your Lap?, This is My Chair, Kneel Before Me, Nudge, and Some of My Best Friends Are Dogs, the poems collected in I Could Pee on This perfectly capture the inner workings of the cat psyche.
With photos of the cat authors throughout, I Could Pee on This shows cats at their wackiest and most lovable.
Free Home Delivery
on all orders
Pick up orders
from local bookshops
Reviews
Showing 1 - 5 of 28 reviews.
Previous | Next
Review by TomKitten
16/06/2015
A masterpiece! Full of joy, heartache, laughter, tears, hairballs, naps and all the other things that make life truly meaningful. The author has some truly hilarious things to say about dogs, too! We laughed and laughed and laughed and then we took a nap. I haven't laughed that hard since I read Old Yeller. Can one ask for anything more from a book? Will go on the shelf alongside such immortal classics as I Am A Cat, The Fur Person, The Cat's Table and, of course, The Tale of Tom Kitten. Read it and pee.
Review by suballa
16/06/2015
I think the title says it all. If you've ever owned a cat, you know they can be the sweetest things ever or the devil incarnate. Sometimes a little of both. These poems will definitely put a smile on your face.
Review by SparklePonies
16/06/2015
Most adorable book I've ever read that was "written by a cat". I would recommend this book.
Review by SparklePonies
16/06/2015
I think I wanted to like this one more than I did. It was cute. Many, many I could relate to with my own kitty. But some of the poems were uninspired. Still, I would hand it to any cat lover for a quick read. Also, a lot more profanity than I expected.
Review by Maydacat
16/06/2015
Why are you reading this review? You should not waste another moment on this or any other thing, but pick up a copy of <i>I Could Pee on This</i> and start reading it aloud to anyone and everyone, including those creatures with "wittle" furry faces. This book of poems illustrates with charming insights and humor the essence that is "Cat." You will learn that you are not the only one whose cat deposited a dead mouse on your bed. (The one my cat brought me was most alive and uninjured, so consider yourself lucky that you didn't have to chase down the dead one, just dispose of it.) You will learn how cats express love – often in painful ways – to their humans. You'll discover the cuteness that only cats can convey with their antics. Whether they are chasing themselves in a mirror, claiming their territory, bathing while sitting on you, or walking across the room without touching the floor, cats are in charge. Get used to it. This gem of a book will help you understand a cat's life from a cat's viewpoint, and really, what more do you need to know? The delightful photos are just icing on the cake or maybe catnip on the kibble. This is a book you will want to own and read over and over. But don't let your cat pee on it.
Also by Francesco Marciuliano | View all