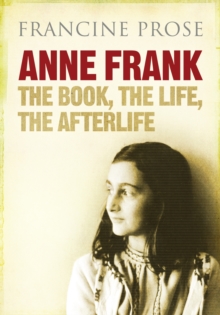 Anne Frank : The Book, the Life, the Afterlife
Hardback
Description
Anne Frank received a red-and-white-checked diary for her thirteenth birthday in June 1942, just weeks before she and her family went into hiding in an Amsterdam attic to escape the Nazis.
For two years, Anne crafted a memoir that has become one of the most compelling and widely read documents of modern history.
Few books have been as influential for as long, and in her thoughtful and revealing book Francine Prose investigates the diary's creation, its precociously gifted writer, and its unique afterlife.
Prose demonstrates what few of the diary's millions of readers will know - that Anne Frank furiously revised and edited her work, crafting a piece of literary power, which she hoped would be read by the public after the war.
She also explores the obstacles and criticism Otto Frank faced in publishing his daughter's words; the controversy surrounding the diary's theatrical and film adaptations; and the claims of conspiracy theorists who have cried fraud, along with the scientific analysis that has proved them wrong.Anne Frank: The Book, The Life, The Afterlife is a profound and illuminating literary investigation that reveals that Anne Frank's diary is more than a historical record: it is a deliberate work of art.
Information
Format: Hardback
Pages: 336 pages
Publisher: Atlantic Books
Publication Date: 01/08/2010
Category: Diaries, letters & journals
ISBN: 9781848874909
Free Home Delivery
on all orders
Pick up orders
from local bookshops
Reviews
Showing 1 - 1 of 1 reviews.
Review by john257hopper
16/06/2015
THIS IS A REVIEW OF FRANCINE PROSE'S BOOK ON THE DIARY, NOT ON THE DIARY ITSELF - THE FORMER'S REVIEWS HAVE BEEN MERGED WITH THE LATTER:This book is an analysis of Anne Frank's diary as a work of literature, particularly comparing the three different versions - a (the original version she wrote day by day), b (the revised version she rewrote in mid 1944 after Dutch Minister Bolkestein's radio call for Dutch citizens to preserve their wartime reminiscences for posterity, which reflects her maturing views as a 15 year old rather than a 13 year old) and c (the synthesis of a and b and which was the original published version in 1947). It also analyses the 1950s Broadway and Hollywood versions of the diary - the bitter arguments over their purpose and the best approach to their presentation, especially over the former, make for unedifying reading. Though not nearly so unpleasant as the (mercifully) quite short chapter about the attempts of Holocaust deniers to try to show the diary was a hoax. The book concludes with some reflections by the author on the challenges and opportunities teaching Anne Frank to students. I wasn't always convinced by the author's literary conclusions, but this was mostly quite interesting in covering differing aspects of this remarkable diary and its author.