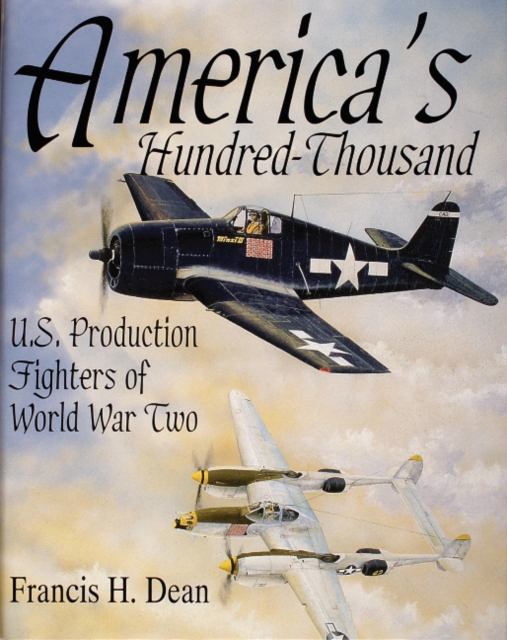 America's Hundred Thousand : U.S. Production Fighters of World War II
Hardback
Description
Americas Hundred Thousand covers in detail the eleven U.S. fighter aircraft types produced just before and during World War II - with a combined production total of just over 100,000 aircraft.
Covered are the Army Lockheed P-38 Lightning, P-39 Airacobra, Curtiss P-40 Tomahawk/Kittyhawk/Warhawk, P-47 Thunderbolt, North American P-51 Mustang, Northrop P-61 Black Widow, and the Navy F2A - Buffalo, F4F - Wildcat, F4U - Corsair, and F6F - Hellcat fighters.
The text is supplemented by more than 650 photographs, and 200 tables and graphs.
Fighter production figures are also included. After an introduction of each type, a heavily illustrated overview of earlier inter-war production from 1920-on, along with a discussion and illustration of wartime experimental types, is provided.
A lengthy section considering several technical factors affecting fighter performance follows.
These include engine models, supercharger types, propellers, aerodynamic thrust, lift and drag, aircraft weight, balance, stability and control, and armament.
Americas Hundred Thousand also provides details of each U.S.
World War II production fighter in terms of models and changes, numbers produced, and major engine and aircraft performance aspects - in tabular and graphical form - details of weights, discussion of handling qualities and general comments, along with detailed descriptions containing many illustrations of aircraft structures and systems showing the technology of that time.
In addition a comprehensive week-to-week and month-to-month chronology of development and wartime combat operational life for each fighter is provided, including many photos.
This study concludes with comparisons of the eleven types in terms of program milestones, aircraft drag, power available at various altitudes, speed, climb, rolling and turning, acceleration, and diving performance, as well as general evaluations by World War II pilots.
Information
Format:Hardback
Pages:608 pages
Publisher:Schiffer Publishing Ltd
Publication Date:06/01/1997
Category:
ISBN:9780764300721
Information
Format:Hardback
Pages:608 pages
Publisher:Schiffer Publishing Ltd
Publication Date:06/01/1997
Category:
ISBN:9780764300721