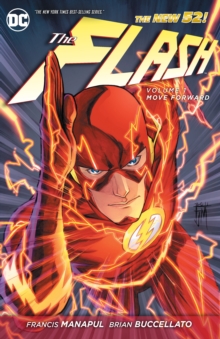 The Flash Volume 1: Move Forward TP (The New 52)
Paperback
Description
Struck by a bolt of lightning and doused in chemicals, Central City Policescientist Barry Allen was transformed into the fastest man alive.
Tapping intothe energy field called The Speed Force, he applies a tenacious sense of justiceto protect and serve the world as The Flash!
The Fastest Man Alive returns tohis own monthly series as part of the DC Comics - The New 52 event withthe writer/artist team of Francis Manapul and Brian Buccellato.The Flash knows he can't be everywhere at once, but he has seemingly met hismatch when he faces DC Comic' hottest new Super Villain, Mob Rule, who reallycan be everywhere at once!
As Mob Rule wages a campaign of crime across CentralCity, including an electromagnetic blast that plunges the city into darkness,The Flash learns that the only way he can capture him (them) and save CentralCity is to learn how to make his brain function even faster than before -but as much as it helps him, it also comes with a steep price!This volume collects issues #1-8 of the The Flash monthlyseries.
Information
Format: Paperback
Pages: 168 pages
Publisher: DC Comics
Publication Date: 20/08/2013
Category: Superheroes
ISBN: 9781401235543
Free Home Delivery
on all orders
Pick up orders
from local bookshops
Reviews
Showing 1 - 1 of 1 reviews.
Review by ElizaJane
16/06/2015
I was so looking forward to this one. Flash is one of my favourite Justice League members. I like his humour and light-heartedness especially. Boy, was I disappointed. Flash here is so serious and there was virtually no humour. For the plot, it was pretty boring for the most part delving into ... sheesh, I read this yesterday and am having a hard time even remembering most of it today. So, the plot delves into how his speed works and whether his brain is as fast as his body. The Mob Rule as bad guys was pretty lame but there is a second storyline that comes into play partway through that perked my interest. Captain Cold shows up and references to certain other Rogue members are made. Yeah! Then a very interesting background story is introduced about Gorilla Grodd. While I didn't like (and can hardly remember) the first part, the second part makes me want to keep going with the series and we'll just have to see how it develops. BTW, this is fantastic art by Manapul which helped me get through the boring parts.