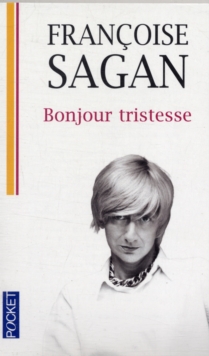 Bonjour Tristesse
Paperback
Information
Format: Paperback
Pages: 153 pages
Publisher: Pocket
Publication Date: 12/11/1986
ISBN: 9782266195584
Other Formats
Paperback from £6.09
EPUB from £4.99
Free Home Delivery
on all orders
Pick up orders
from local bookshops
Reviews
Showing 1 - 3 of 3 reviews.
Review by thorold
16/06/2015
This is one of those "I can't believe I didn't read it when I was 16" books. Reading it as an adult, far too late, I had to admire the maturity of Sagan's insight into the characters, but I don't think it had the magic for me that it evidently has for many readers. What did strike me about it was what a long time ago it all was, and what a privileged social class is involved. The teenage narrator never stops for a moment to wonder how it is that she is able to spend months lolling on the beach and pretending to revise for exams. Raymond is in advertising, but he seems to be able to stop work for the whole summer without any difficulty; we don't see any poor people at all, unless you count Elsa, who has no visible means of support, but still manages to get by for a few weeks (in Cannes!) when Raymond dumps her. I don't think many people in Europe were in such a comfortable position in the early fifties (my mother had been in full-time work for several years when she was Cécile's age). All right for some...
Review by WorldInColour
16/06/2015
So what happens when a spoiled teenager is forced to grow up and refuses her new stepmother? Apparently, some pretty evil shit. Cécile is not happy with the rigid lifestyle of her new mater familias Anne and doesn't waste a single opportunity to show her disdain. Even though she admires the consistency and upper class aesthetics of Anne.<br/><br/>I would say that this book is interesting because of the opposition between quick passions, represented by Elisa and the father of Cécile, and the long-lasting engagement of a real relationship. I would say that this book is interesting because of this reason, but certainly not groundbreaking. No earthquakes here.<br/><br/>I can't even be bothered to write a decent review here. Nothing spectacular. Go read Boris Vian.
Review by Smiler69
27/08/2015
Cécile, seventeen years old, has been living with her handsome widowed father Raymond, whom she adores, for the past two years, ever since he took her out of convent school and introduced her to his world of beautiful women and fashionable nightclubbing. Now he's rented a villa in the Côte d'Azure for the summer, and Cécile is looking forward to an easy and fun-filled summer by the beach, which she knows will be filled with his father's women, though she doesn't mind this—they come and go and he's always taken Cécile in his confidence, and she finds his frivolity suits his character just fine. His current mistress is called Elsa and all three get along very well. Then she meets a young man in his mid-20s called Cyril who seems to be in love with her and she indulges him in a love affair on a whim, to pass the time and because that is what is done by her friends, and certainly by the likes of her father. All is fun and good times, until Anne Larsen appears on the scene rather unexpectedly. Anne had been a friend of Cécile's mother, now dead for 15 years. Anne is a serious woman who has her own fashion business; refined and cultured, she had taken Cécile in hand some years ago, had shown her how a young lady should comport herself, taught her proper deportment, how to dress, how to modulate her speech, in short, given her a veneer of sophistication the girl had lacked until then and has put to good use ever since. But now it seems Anne and her father are suddenly in love with each other, which seems so unlikely! Surely he is much too dissolute for Anne? Surely she is much to staid for his tastes? But overnight, they decide to get married, and now Elsa must leave the villa. Cécile is outraged; surely they can't just turn out Elsa without a word of explanation? But worse is yet to come. Anne has decided to take the young girl in hand again. She is not doing well in her studies and exams are looming, so now she must spend her time studying hard, and never mind the beautiful summer weather and the beckoning beach. Worse yet, Raymond sides with his fiancée whenever she adopts a hard line, which is completely unlike him. Cécile can't believe her loving father would let himself be influenced to that degree. She comes up with a plan which will surely put Anne in her place. She will orchestrate it all: she tells Cyril and Elsa to act like lovers and appear in front of her father as if coincidentally to incite his jealousy. He is in his 40s after all, and surely he will be jealous to see his beautiful former mistress on the rebound with a much younger handsome man. Cécile counts on Raymond's weakness for beautiful women to lead him straight back into Elsa's arm. She knows her father well. She truly believes this will teach Anne a lesson, that she will be forced to give them back a little of their former freedom if she truly loves them. But her plan backfires and brings tragedy instead. I picked up this slim novel as an audiobook, extremely well narrated by French actress Sara Giraudeau, who was very convincing as Cécile, listening to it in just one short sitting. I'd forgotten what year it had been published in and assumed it was from the early 60s, and upon checking, was shocked by just how advanced it was for it's time. True, the French have always had different notions from the English when it comes to sexuality and the rearing of children, but all the same, the attitudes adopted by Cécile and her father here seemed more in tune with the anything-goes 70s or even our own era than the postwar early 50s, and more surprising yet was just how mature Cécile's voice was. Perhaps the way she decided to deal with Anne's strict presence showed her to be a child still, but her narration was sophisticated, and when one considers that Françoise Sagan herself wrote the book when she herself was only 18 years old, basing herself on personal experiences, it is clear she was a unique and exceptionally precocious writer. This book might not suit everyone, since the material may be shocking to some readers, but I really loved it for how beautifully it is written. Highly recommended for readers with a liberal mind.