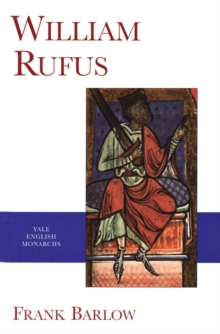 Description
William II, better known as William Rufus, was the third son of William the Conqueror and England's king for only 13 years (1087-1100) before he was mysteriously assassinated.
In this vivid biography, here updated and reissued with a new preface, Frank Barlow reveals an unconventional, flamboyant William Rufus-a far more attractive and interesting monarch than previously believed.
Weaving an intimate account of the life of the king into the wider history of Anglo-Norman government, Barlow shows how William confirmed royal power in England, restored the ducal rights in France, and consolidated the Norman conquest.
A boisterous man, William had many friends and none of the cold cruelty of most medieval monarchs.
He was famous for his generosity and courage and generally known to be homosexual.
Licentious, eccentric, and outrageous, his court was attacked at the time by Anselm, archbishop of Canterbury, and later by censorious historians.
This highly readable account of William Rufus and his brief but important reign is an essential volume for readers with an interest in Anglo-Saxon and medieval history or in the lives of extraordinary monarchs.
Information
Format: Paperback
Pages: 512 pages
Publisher: Yale University Press
Publication Date: 14/03/2000
ISBN: 9780300082913
Free Home Delivery
on all orders
Pick up orders
from local bookshops
Reviews
Showing 1 - 1 of 1 reviews.
Review by waltzmn
16/06/2015
Biographers of William Rufus have to get used to being challenged, "Prove it!"The reign of Rufus, the son of William the Conqueror, raises a lot of difficult questions. Was he homosexual? (Probably, but we don't have the direct evidence.) Was he murdered? (Probably, but we don't have the direct evidence.) Did his father really designate him as his successor in England while making his older brother Robert heir of Normandy? (Probably, but we don't.... you get the idea.)The lack of sources makes things difficult. This is visible even on the cover of the paperback edition, which shows a picture of William II from British Library MS. Cotton Claudius B VI. It's not contemporary, but it's about all we have. And the face is grey-brown, not pink or another flesh color. The white lead used to paint it has gone dark.And so have most of the sources. We know even less about Rufus than about his father; the Anglo-Saxon Chronicle doesn't have as many details as we would like, the Domesday Book is completed, the household records haven't started yet -- and the church just plain didn't like Rufus, and either ignored or blackwashed him. It makes life very difficult for a biographer.Frank Barlow's book does all it can to clear that up. He sorts through all kinds of sources -- not just chronicles and charters but saints' lives and faint hints in literature and non-English writings. It's hard to imagine someone wringing much more out of the data.Sadly, Barlow's writing skill did not match his research skills. His books tend to be ponderous, and even though this one involves a truly interesting subject, he hasn't managed to produce a particularly good read. As a scholarly work, this ranked very high. As a piece of writing, it stands somewhat below the average of the <i>English Monarchs</i> series. Still, if you want to know about this period of English history, this is a must-have book.And that statement hardly requires proof.
Also in the The English Monarchs Series series | View all