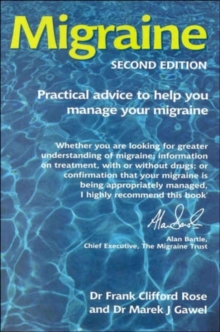 Migraine
Paperback / softback
Description
Migraine is more than just a headache. It can be a debilitating condition, which has a considerable impact on the quality of life of sufferers and their families.
Migraine provides practical information about possible triggers - certain foods for example; the effects of various factors such as stress, or taking the pill; the various types of migraine; the reasons for the feelings of elation or exhaustion that can follow an attack; and suggestions for self-management of migraines.
The more you understand about your migraines and the triggers that cause them, the better able you will be to control them.
In this invaluable guide, the expert medical authors answer all your questions about migraines, and give you all the information you need to manage them. *Easy to follow practical steps to overcome the debilitating effects of migraine*Straightforward advice on how to create a comprehensive Migraine Diary*Comprehensive information on the different treatments available*Medically accurate advice on how to deal with your migraines
Free Home Delivery
on all orders
Pick up orders
from local bookshops
Also by Frank Clifford Rose