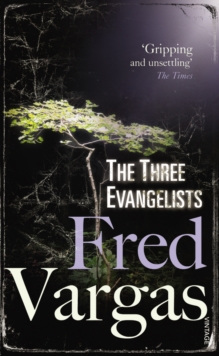 The Three Evangelists
Paperback
Description
The opera singer Sophia Simeonidis wakes up one morning to discover that a tree has appeared overnight in the garden of her Paris house.
Intrigued and unnerved, she turns to her neighbours: Vandoosler, an ex-cop, and three impecunious historians, Mathias, Marc and Lucien - the three evangelists.
They agree to dig around the tree and see if something has been buried there.
They find nothing but soil. A few weeks later, Sophia disappears and her body is found burned to ashes in a car.
Who killed the opera singer? Her husband, her ex-lover, her best friend, her niece?
They all seem to have a motive. Vandoosler and the three evangelists set out to find the truth.
Information
Format: Paperback
Pages: 304 pages
Publisher: Vintage Publishing
Publication Date: 01/01/2007
Category: Crime & mystery
ISBN: 9780099469551
Free Home Delivery
on all orders
Pick up orders
from local bookshops
Reviews
Showing 1 - 5 of 6 reviews.
Previous | Next
Review by jaygheiser
16/06/2015
French murder mystery. Interesting, but not entirely engrossing
Review by CatyM
16/06/2015
Having already begun to investigate the bizarre appearance of a tree in their neighbour's garden, historians Mathias, Marc and Lucien (together with Marc's ex-cop uncle) naturally take an interest when the neighbour in question vanishes without trace.I liked the historians as characters. They had - how can I put it? - personality. I wasn't as keen on some of the other characters, but they were all well written. The plot dragged a bit, although the ending was tense and full of twists. The atmosphere is very French, and I think the translator has done a good job capturing that whilst also rendering what was no doubt very idiomatic French into idiomatic English. The book is less cosy than it sounds: it's a strange blend of the cosy's amateur detectives with some grittier, almost noir elements. I wouldn't say I liked it, but it definitely had a certain something. I think it might well appeal to fans of the current crop of slightly dark Scandinavian crime fiction.
Review by Figgles
16/06/2015
Enjoyable modern Parisian murder mystery with "cosy" tendencies. A retired opera singer enlists the help of her three new neighbours (young unemployed historians) to investigate the appearance of a beech tree sapling in her garden. Then she disappears and her new friends, aided by one of their godfathers, a retired/disgraced police inspector, get embroiled in the investigation...
Review by cameling
16/06/2015
A retired opera singer, Sophia, looks out of her window one day and finds .... a tree. It wasn't there the day before, and it's not a new sapling, but an actual tree. There's no note attached to the tree, or any other clues as to who could have sneaked into her garden to plant the tree. Sophia disappears and is found burned in an abandoned car a few weeks later. Vandoosler, now no longer with the police force, his nephew and 2 other friends he charmingly names after saints, strike out on their own to try and solve this mystery. They seem to find suspects at every corner they come to, all with reasonable motives to have killed Sophia. This is not a book to start reading if you know you have to go grocery shopping, start cooking dinner in an hour's time, go to work or study, or pick someone up from the airport because you may think you can put it down and pick it up again after a few hours, but what you'll find is you'll be compelled to ignore life around you and continue turning the pages of this wonderful murder mystery.
Review by riverwillow
16/06/2015
I absolutely adored this book as I loved the three historians Mathias, Marc and Lucien, the three Evangelists of the title, and Marc's ex-policeman great uncle as they investigated first the mysterious appearance of a tree in the garden of their neighbour, Sophia Simeonidis and then Sophia's disappearance, followed by an increasing body count. The various mysteries are intriguing and judiciously placed red herrings ensure that the solution was a surprise to this reader at least. Wonderful.