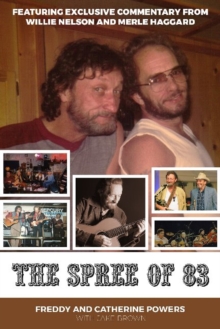 Description
Freddy Powers is affectionately known as the Ol Blue Eyes of Country Music, according to the L.A.
Times, and if you were to ask country superstars Willie Nelson, George Jones or Merle Haggard (theyll)tell you that hes one of country musics best-kept secrets. The Texas Country Music Hall of Fame inductee has been to the top of the Charts as both a producer (Willie Nelsons Grammy-winning Over the Rainbow LP) and songwriter, penning many # 1 hits with sidekick and fellow legend Merle Haggard, who declared Freddy Powers is one of my favorite people in the world, while Willie Nelson adds personally that Freddys strongest suit, I always thought, was his rhythm guitar playing. He was a great rhythm guitar player, and he wrote some great songs with and for Merle.
Sizing up Powers influence on country music, Country Music Television has noted that throughout his 50-year career, Powers has demonstrated a dedication to broadening the perimeters of country & western, particularly in creating a fusion of country honky tonk and swing jazz.
This interest runs throughout Powers career, while his hometown Austin Chronicle has affectionately concluded that Powers name stands alongside some of country musics most enduring classics. Now, for the first time, in the pages of his memoirs, THE SPREE OF 83, Freddy recounts first-hand the highly-entertaining and emotionally-touching story behind his decades-long roller-coaster ride through the music business, to the top of the charts, and his inspiring struggle in recent years battling Parkinsons disease, all while his legacy endured through generations of fans. Helping Freddy tell his story are exclusive interviews from fellow country music legends WILLIE NELSON, MERLE HAGGARD, John Rich, Tanya Tucker, The Voice finalist/Powers protege Mary Sarah, and hosts of other Nashville luminaries.
Information
Format: Hardback
Pages: 405 pages
Publisher: Primedia E-launch LLC
Publication Date: 01/07/2017
Category: Country & Western music
ISBN: 9781945174940
Free Home Delivery
on all orders
Pick up orders
from local bookshops