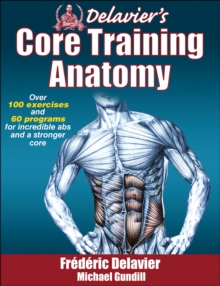 Delavier's Core Training Anatomy
Paperback
Description
"Delavier's Core Training Anatomy" is your guide to increasing core strength, stability and flexibility.
Whether you're just beginning your routine or looking to enhance an existing conditioning programme, "Delavier's Core Training Anatomy" presents the most effective exercises and workouts for the results you want.
It's all here and all in the stunning detail that only Frederic Delavier can provide.
With 460 full colour photos and illustrations, you'll go inside over 100 exercises and 60 programmes to see how muscles interact with surrounding joints and skeletal structures.
You'll learn how variations, progressions, and sequencing can affect muscle recruitment, the underlying structures and ultimately the results.
Information
Format: Paperback
Pages: 144 pages
Publisher: Human Kinetics Publishers
Publication Date: 10/10/2011
Category: Biomechanics, human kinetics
ISBN: 9781450413992
Free Home Delivery
on all orders
Pick up orders
from local bookshops
Reviews
Showing 1 - 5 of 8 reviews.
Previous | Next
Review by 06nwingert
16/06/2015
Delavier's Core Training Anatomy is a beautifully written and illustrated book on core exercises. Delavier writes with the layman in mind, although he does use scientific terminology. He begins with the hows and whys, listing 20 reasons for developing your core before moving onto the whats- the exercises that develop the core.
Review by cornerhouse
16/06/2015
This is perhaps the most comprehensive, well-illustrated, and easy to use reference manual for any kind of exercise that I've seen. The explanations are clear and precise, the exercises themselves are categorized in ways that are useful (not just for creating the look of fitness, but fitness itself in its several varieties), and the illustrations and photographs make it nearly impossible to not understand what's going on when you train your core musculature. But perhaps the most important aspect of this book is the keen awareness that while everyone would benefit from some core training, there are different kinds of benefits for different kinds of purposes (both in looks and in performance). This nuanced approach is particularly important for someone looking to increase core strength for a specific purpose (e.g., to increase cycling performance without adding additional bulk and weight).
Review by starboard
16/06/2015
Like many other exercise training books published by Human Kinetics, Delavier's Core Training Anatomy, is extremely informative and easy to use and follow. The book details a wide variety of exercises for core muscles using written explanations, photographs of people performing the exercises in stages, and detailed anatomical drawings of the specific muscles used in each exercise. Individual exercises are first explained and demonstrated and then are followed by example core training programs one could incorporate into a workout regimen. Safety and health concerns are also addressed throughout the sections. This book is different from Delavier's Strength Training Anatomy in that it includes a detailed introductory section which discusses how to develop a workout program. While much of this information is geared to a beginner, the discussions on sets, repetitions and strategies are useful to all. My only complaint is that the woman model chosen to demonstrate the exercises has no muscle tone; as a woman, I would prefer to see someone who looks like they weight train. Ignoring that however, Delavier's Core Training Anatomy is a good addition to a training library and is a useful reference to own.
Review by drmarymccormack
16/06/2015
I wish I were a better writer so that I could write the review that this book deserves. I was so happy to receive it as an early reviewer! I have Delavier's book "Women's Strength Training Anatomy" and I love it and use it at least twice a month. Before I took an anatomy class I never understood why the anatomy atlas book always used illustrations instead of photographs. When one is actually trying to identify the the proper muscle in many different body types, the illustration is invaluable! Delavier is a beautiful illustrator! Wonderful photographs with the muscles drawn over the area are super helpful. This book is wonderful. It has a bit of everything. It talks about including cardiovascular exercise with a strength training routine. I love that it shows the correct and incorrect way one can do the exercises. Also this book is not just for the amateur, my husband, who is dedicated to swimming and running said he thought it was the best book he has seen of it's kind. That's high praise from him because he's read it all! I would highly recommend this book to anyone who is thinking about starting an exercise program or the expert. Beautifully done!
Review by kssunflower
16/06/2015
I had planned to submit a review of Delavier's Core Training Anatomy earlier, but upon its arrival my husband picked it up and has been reluctant to part with it. It fired his enthusiasm for getting back into shape because of its clear, simple text and precisely rendered illustrations and effective photographs. I have never seen him respond to exercise materials as he has to this book. The publisher, Human Kinetics, always produces quality books, but this particular book can fire you up to want to exercise because it reduces reluctance through a solid presentation that makes you feel that your understand how to achieve your goals and why other approaches may have been ineffective. My husband has tried to shore-up sagging abdominals for a long time, but always quit routines that were either boring or painful. Delavier gives him the insights into how the body works, a variety of approaches, and ways to avoid injury while training. I believe this time, with this book, my husband will achieve his goals.There are 460 visual depictions of the recommended exercises and the body itself. There is not guesswork. You know which exercise will impact which muscle group and why. Delavier ensures you know how muscles, joints and bones work together and are affected by the 100 exercises divided into 60 programs. There is truly something for everyone in this book, male or female, young, middle-aged or older. You can improve both your body's health and appearance through the knowledge this book provides.This is not just another general fitness book. It targets the core specifically and then provides routines designed to the specific needs of its readers. Therefore, you can aim for sculpting abs, reducing fatty tissue, improving your heart health or reducing lower back pain, but you can also train for enhanced performance in over 20 different sports. You will be taught what you should do, how you should do it, and why it is important.The book is divided into 6 parts: a general introduction that helps you key into identifying your goals and how to achieve them by giving you the nuts and bolts answers you need to start and maintain a program, how to make your abs more visible,specific exercises complete with tips and cautions, advanced exercises and techniques to further your program, exercises involving machines and accessories, and finally, a section on sports and goal-specific programs incorporating those exercises allowing you to fine-tune your approach (e.g., of special interest to me as a woman is how to minimize bloating and digestive problems and how to minimize or avoid lower back pain.)Core muscle fitness is more important than looking sexier. It improves posture, protects and strengthens spinal health, avoids back pain, improves digestion and reduces risk factors for type 2 diabetes. Done properly, as illustrated and discussed in this book, you can also get cardiovascular workouts equal to hours of running, but without the risks of joint damage to your knees and back. Now, if that isn't enough to tempt you, just take a look at the book itself. The quality of the information, illustrations and photography will blow you away. I always offer books I receive to review to my husband to get his take on it. This is the first book he has studied, whose recommendations he is trying, and the first one that he was reluctant to part with long enough for me review. I understand why. In fact, I may have to buy another copy so we each have our own. It is that good.