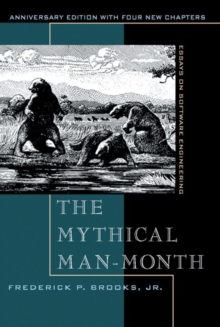 The Mythical Man-month : Essays on Software Engineering
Paperback
Description
Few books on software project management have been as influential and timeless asThe Mythical Man-Month.
With a blend of software engineering facts and thought-provoking opinions, Fred Brooks offers insight for anyone managing complex projects.
These essays draw from his experience as project manager for the IBM System/360 computer family and then for OS/360, its massive software system.
Now, 20 years after the initial publication of his book, Brooks has revisited his original ideas and added new thoughts and advice, both for readers already familiar with his work and for readers discovering it for the first time. The added chapters contain (1) a crisp condensation of all the propositions asserted in the original book, including Brooks' central argument in The Mythical Man-Month: that large programming projects suffer management problems different from small ones due to the division of labor; that the conceptual integrity of the product is therefore critical; and that it is difficult but possible to achieve this unity; (2) Brooks' view of these propositions a generation later; (3) a reprint of his classic 1986 paper "No Silver Bullet"; and (4) today's thoughts on the 1986 assertion, "There will be no silver bullet within ten years."
Information
Format: Paperback
Pages: 336 pages, illustrations
Publisher: Pearson Education (US)
Publication Date: 02/08/1995
Category: Software Engineering
ISBN: 9780201835953
Free Home Delivery
on all orders
Pick up orders
from local bookshops
Reviews
Showing 1 - 5 of 12 reviews.
Previous | Next
Review by Miche11e
16/06/2015
I bought the 1982 edition from Abe books because I was too cheap to shell out $33 for the 2005 edition.It's a good book, but a bit dated. Many of the suggestions are now standard business practices and it is more specific to programming than is really necessary. I bought the book specifically because I was interested in using the concept "Plan to Throw One Away" at work.I laughed when the chapter started talking about the problems with scaling-up pilot chemical plants. I recall that lab VERY well. You build a pilot plant to prove that the process will work. You hope that when you scale it up, the reduced losses will make it efficient. I don't think the analogy is correct, but the lesson is a good one. Don't develop a new process without thorough testing, during which you'll probably have to throw the product away. Work the bugs out during the pilot, and then implement.
Review by thepricefam
16/06/2015
A so-so read. Many essays are outdated, but the MMM essay is still highly relevant. It alone is worth reading today.
Review by colinangusmackay
16/06/2015
While some may say this book is out dated there are still important lessons to be learned from it. I feel, however, that because the examples given to back up the arguments are now out of date it may make reading the book difficult for those who were not around at the time the original edition was published.
Review by tjbond
16/06/2015
An excellent book on management and software development. It is remarkable how much Brooks gets right.
Review by RobKohr
16/06/2015
The major important concept of the book is the downward curve in productivity per worker as additional employees are added to the project. The book goes through a lot to prove this and give some reasons for it (for example more permutations of communcation connections between employees).The down side is that there is just too much outdated material in this book to make it worth reading. If you fully grasp the above concepts, skip this book, otherwise you will be bored to tears. If you don't grasp these concepts, then read the book as it is the best place to start on the subject.
Also by Frederick P. Brooks Jr.