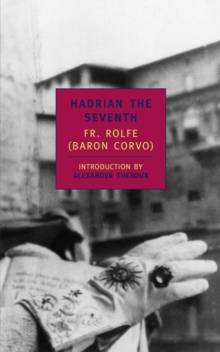 Hadrian the Seventh
Paperback
Information
Format: Paperback
Pages: 424 pages
Publisher: The New York Review of Books, Inc
Publication Date: 01/03/2001
Category: Classic fiction (pre c 1945)
ISBN: 9780940322622
Free Home Delivery
on all orders
Pick up orders
from local bookshops
Reviews
Showing 1 - 1 of 1 reviews.
Review by DieFledermaus
16/06/2015
This book seriously disappointed me. I really should have liked it – it was published by NYRB, one of my favorite publishers, has a bizarre premise – obscure Catholic reject George Arthur Rose is elected pope – and is set in a parallel reality, all of which appealed to me. Unfortunately, all the characters are horribly, horribly flat and the wish-fulfillment aspect becomes extremely grating. I can't recommend it as a good read – more of a curiosity. Still, it is odd enough that it's good NYRB published it. That's how I've felt about other books that they published but that I disliked – it's good that they're out there but not for me.The book starts out well. George Arthur Rose relates at length his persecution out of the Catholic hierarchy then the choosing of the new pope is described. The author is able to describe all the inanities and labyrinthine process that goes into both. This still might not appeal to other people, but sometimes I like things like that – to land in the middle of a scene with all its jargon. After he becomes pope, there is still some fun to be had – mostly with the new pope Hadrian going rogue. Some of the side stories of his surrounding advisors and cardinals are interesting also. The style throughout is very idiosyncratic, but I generally like that rather than being annoyed by it.After that, the book starts to become irritating. The other cardinals/Catholic officials who oppose Hadrian are obviously jealous and corrupt – there's really no complexity to those characters – they're just bad. For some reason, a Socialist group in England opposes him and becomes obsessed with him, instead of not giving a shit about the pope, as one might expect – though in this reality, England apparently cares about Roman Catholics, as opposed to the toleration to prejudice usually seen towards them around that time. Again, the representative they send to bother Hadrian is just a venal, uncultured asshole. To add to that, a slutty woman - who threw herself at Hadrian when he was Rose - goes along with the asshole. Needy, whiny, vain – she's a whole bunch of stereotypes tossed together. Of course anyone who opposes the pope has horrible motives and is just a jealous toady. Other wish fulfillment parts are seen in the plot – the new pope forgives all his former enemies – so magnanimous! – and helps a seminary student who is obviously supposed to be a younger version of himself – the boy is being picked on by stupid bullies for being aloof and above the petty politics. There are some deeply distasteful plot parts that the author couldn't have imagined. The pope seems a little too obsessed with the attractive young son of Victor Emmanuel, King of Italy in this reality. Also, the pope supports the German ruler in taking over territories in the rest of Europe. Or something like that – wasn't paying too much attention at that point. The end is also really irritating. Ugh.