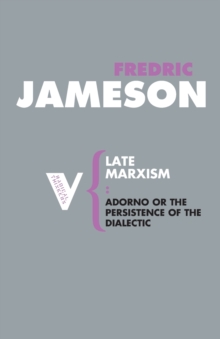 Late Marxism : Adorno: Or, the Persistence of the Dialectic
Paperback
Description
In the name of an assault on "totalization" and "identity," a number of contemporary theorists have been busily washing Marxism's dialectical and utopian projects down the plug-hole of postmodernism and "post-politics." A case in point is recent interpretation of one of the greatest twentieth-century philosophers, Theodor Adorno.
In this powerful book, Fredric Jameson proposes a radically different reading of Adorno's work, especially of his major works on philosophy and aesthetics: Negative Dialectics and Aesthetic Theory.
Jameson argues persuasively that Adorno's contribution to the development of Marxism remains unique and indispensable.
He shows how Adorno's work on aesthetics performs deconstructive operations yet is in sharp distinction to the now canonical deconstructive genre of writing.
He explores the complexity of Adorno's very timely affirmation of philosophy -- of its possibility after the "end" of grand theory.
Above all, he illuminates the subtlety and richness of Adorno's continuing emphasis on late capitalism as a totality within the very forms of our culture.
In its lucidity, Late Marxism echoes the writing of its subject, to whose critical, utopian intelligence Jameson remains faithful.
Information
Format: Paperback
Pages: 270 pages
Publisher: Verso Books
Publication Date: 14/12/2006
ISBN: 9781844675753
Free Home Delivery
on all orders
Pick up orders
from local bookshops
Reviews
Showing 1 - 1 of 1 reviews.
Review by stillatim
16/06/2015
A solid option among books which introduce Adorno, and it has the benefit of being in print (unlike, say Martin Jay's 'Adorno'). The best thing here is that Jameson recognizes the importance of Marx for Adorno, which many of other books (especially Berstein's 'Adorno') don't. On the other hand, Jameson's Marx is a shifty figure based on Mandel and Harvey, and thus actually does a disservice to Adorno. It's like someone offering you chocolate with the promise that it's got just the right amount of cocoa in it... and then finding out that the perfectly proportioned cocoa was scooped up off the floor of a sawdust factory (Marx here = cocoa, not sure how clear that is). <br/>Other downsides are a general vagueness which is probably inevitable given Jameson's Jamesian prose style; a too-swift examination of Negative Dialectics with a lot of chat about the aesthetics; and a fatuously 'hip' recourse to Althusser and the concept of hegemony as a corrective to Adorno's theory of ideology. This last is only necessary because Jameson doesn't understand Hegel at all, and fails to see how important the German Idealists were for Adorno's work. <br/>That said, it's really not bad, and gets the general point right: Adorno's obsession with totality and so forth must be separated from an affirmation of totality and almost every other concept he uses, and we would do well to remember that.