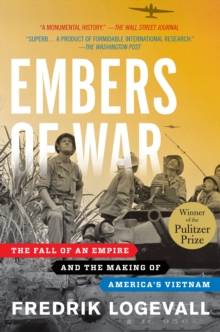 Description
This monumental history asks the simple question: How did we end up in a war in Vietnam?
To answer that question Fredrik Logevall traces the forty-year path that led us from World War I to the first American casualties in 1959.
Using fresh archives in Washington, Hanoi, and Paris, Cornell University Professor of History Fredrik Logevall shows how senior French and United States officials proved unwilling to confront reality in Vietnam, despite having excellent intelligence information at their disposal, and despite possessing their own private doubts about the prospects. And, to an astonishing degree, Embers of War shows how the problems Americans faced in Vietnam had been faced before them by the French.
In Bernard Fall's words, Americans were "dreaming different dreams than the French but walking in the same footsteps." FREDRIK LOGEVALL is John S.
Knight Professor of International Studies and Professor of History at Cornell University, where he serves as director of the Mario Einaudi Center for International Studies. "A balanced, deeply researched history of how, as French colonial rule faltered, a succession of American leaders moved step by step down a road toward full-blown war."--Pulitzer Prize citation. "Embers of War", a remarkable new history of the first Vietnamese war by Fredrik Logevall"The Economist. "Fredrik Logevall's excellent book"Choosing War "(1999) chronicled the American escalation of the Vietnam War in the early 1960s.
With "Embers of "War, he has written an even more impressive book about the French conflict in Vietnam and the beginning of the American one...It is the most comprehensive history of that time.
Logevall, a professor of history at Cornell University, has drawn from many years of previous scholarship as well as his own. And he has produced a powerful portrait of the terrible and futile French war from which Americans learned little as they moved toward their own engagement in Vietnam." The New York Times Book Review-Editor's Choice.
Information
Format: Paperback
Pages: 864 pages
Publisher: Presidio Press
Publication Date: 15/08/2013
Category: Asian history
ISBN: 9780375756474
Free Home Delivery
on all orders
Pick up orders
from local bookshops
Reviews
Showing 1 - 2 of 2 reviews.
Review by Schmerguls
16/06/2015
I read this because it won this year the Pulitzer History prize. It is the 53rd such winner I have read. This is a magnificent and extremely well-organized book. It concentrates on the years from 1940 to 1959, and traces the painful course of French efforts to reinstall themselves in Vietnam after World War II. The events leading up to Dien Bien Phu are lucidly set out, and the events at Geneva in 1954--when the French came out for better than one would expect. The situation as to the elections which were scheduled for 1956 is explained and the fact that the U.S. and Diem were not parties to the Geneva accords let them refuse to have elections--which all agreed Ho would have won. So we supported Diem wholeheartedly,even though he was not the choice of the Vietnam people, even the people of South Vietnam. The book shows how we became ensnared into the Vietnam situation--and it is only with the benefit of hindsight that one can say we should not have taken the role we did. This is true beacon of enlightenment for anyone who wants to know how we became ensnared in Vietnam
Review by crsini
27/08/2015
*i received this book through a Goodreads giveaway. Thanks to those that made it happen!*<br/><br/>It's hard to gripe about things received for free. Unfortunately, i have to preface this review with a gripe. At some point around page 150 in my reading, clusters of pages began to fall out. These clusters were between 10 and 200 pages. By the end of the book, more than half had fallen from the book, despite my feeble attempts at repairing it. It was essentially FUBAR by the time i'd skimmed over my minimalist marginalia. It was very surprising to see Random House as publisher.<br/><br/><i>Embers of War</i> is exhaustive without being impenetrable. Logevall details the First Indochina War and the Vietnamese struggle from 1919-65, from Ho's emergence as a juggernaut on the scene to the United States's decision to send nearly 200,000 ground troops. The book does a fantastic job showing the sunk cost fallacy at work. The hard-line stance of the French and American governments markedly limits the actions that administrations can take. i was impressed with the depth of research and the fluency of the narrative while avoiding embellishment. It's an invaluable reference on the subject.<br/><br/>There's only one egregious reason this gets four stars instead of five. Despite having nearly 100 pages of notes, his citations are dodgy at times. More noteworthy, in my opinion, is the nearly verbatim insertion of whole paragraphs with a mere footnote at best. i collected a couple examples which follow.<br/><br/>1.<br/><br/><blockquote>In Washington, attitudes were more mixed. Smith, having returned from Geneva on June 20, argued in favor of accepting the inevitability of a division of Vietnam and the desirability of guaranteeing it, so as to discourage the DRV from trying to violate the agreement. But Pentagon planners reiterated the old view that the Red River Delta was vital to the defense of all of Southeast Asia. A north-south partition . . . would merely be a prelude to the loss of the entire region.</blockquote> EMBERS OF War, 591-2<br/><br/><blockquote>"In Washington, sentiment was divided and confused. Walter Bedell Smith, who had returned to Washington on June 20, was convinced that the United States should accept the settlement proposed by the French . . . noting that in such a case the other side would not be tempted by the weakness and disunity of the opposition to violate the settlement. . . . Sentiment within the Defense Department was apparently strong that the Red River Delta was crucial to the defense of all of Southeast Asia. A North-South partition would thus merely be a prelude to a communist takeover of the entire region."</blockquote> U.S. Containment Policy and the Conflict in Indochina; William Duiker; 184 (reference not cited in previous passage)<br/><br/>2.<br/><br/><blockquote>Terrorist attacks continued, none more brazen than one in late July on a group of French officers and their families at Cap St. Jacques, a resort town of palms and black sandy beaches at the mouth of the Saigon River. During dinner, while white-clad waiters served the main course, a group of Viet Minh soldiers in stolen Expeditionary Corps uniforms rushed in and hurled grenades and emptied Sten guns into the crowded room. When French soldiers arrived on the scene, they found eight officers, six children, two women, and four Vietnamese servants dead, along with twenty-three wounded. Only a lieutenant who played dead and a small boy who hid behind a chair remained unhurt.</blockquote> Embers of War, 320<br/><br/><blockquote>Cap St. Jacques is . . . a city of palms and black sandy beach, at the mouth of the Saigon River. . . . While white-clad Vietnamese waiters served the course, a column of native soldiers in the green French Union battle-dress emerged . . . armed with regulation grenades and Sten guns. When French soldiers reached the dining room, they found eight officers, six children, two women and four Vietnamese servants dead and 23 wounded men, women &amp; children. Only a lieutenant who had rolled into the blood of a dead woman to simulate death and a small boy who had hidden behind a chair remained uninjured.</blockquote> "Massacre at Cap" in August 4, 1952 issue of Time Magazine. [this reference is cited in EoW but the above passage is still alarmingly close to the original]<br/><br/>i didn't have to perform a thorough search to find these, and there may well be more flagrant passages in the book. Despite being a thorough and well-developed monograph on the first war in Indochina, these occurrences raise eyebrows and questions alike.