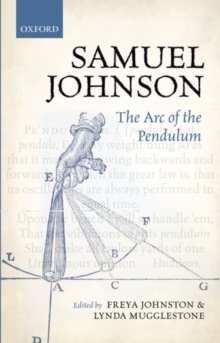 Samuel Johnson : The Arc of the Pendulum
Hardback
Description
Samuel Johnson: The Arc of the Pendulum offers unique insight into the works of Samuel Johnson by re-considering William Hazlitt's oft-cited comparison between Johnson's prose and a pendulum. In 1819, William Hazlitt condemned Samuel Johnson's prose style as 'a species of rhyming' in which 'the close of the period follows as mechanically as the oscillation of a pendulum, the sense is balanced with the sound'.
Predictable, formulaic, and unresponsive,Hazlitt's Johnson was 'incapable of latitude and compromise, a mere automaton who rebounded from one position to its opposite extreme'.
This collection of essays focuses on Johnson's works, rather than perceptions of his personality, and argues that Johnson's perceived erratic opinions reflect an understanding of the complexity, instability, and contradictions of the world in which he lived.
The volume challenges Hazlitt's influential reading of the Johnsonian pendulum, focusing on the uses and enjoyments of inconsistency, and the varieties of instability, irresolution, and active change which are revealed by and within Johnson. Chapters from a strong team of contributors present new perspectives on Johnson's work, life, and reception. The chapters address questions of style, authority, language, lexicography, and biography across a range of Johnson's writings from the early poetry to the late prose.
Johnson emerges from these chapters not as a writer trapped within a set of oppositions, but as one who engages imaginatively and vigorously with flux, dynamism, and inconclusiveness.
From the late eighteenth century onwards, to be 'Johnsonian' has typically been made synonymous with firm resolution and trenchant opinion, with polysyllabic excess and a style removed from the exigencies and accidents of ordinary existence. And yet, as this volume suggests, Johnson's life and writings embody the critical and creative play of ideas, a form of interaction with the world which is shaped by instability, contradiction, and combat.
Information
Format: Hardback
Pages: 240 pages, 1 black-and-white halftone
Publisher: Oxford University Press
Publication Date: 18/10/2012
Category: Literary studies: c 1500 to c 1800
ISBN: 9780199654345
Free Home Delivery
on all orders
Pick up orders
from local bookshops