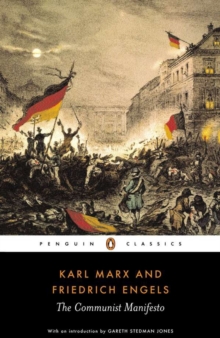 Communist Manifesto
Paperback
Description
A rousing call to arms whose influence is still felt today, Karl Marx and Friedrich Engels' The Communist Manifesto is edited with an introduction by Gareth Stedman-Jones in Penguin Classics.
Marx and Engels's revolutionary summons to the working classes, The Communist Manifesto is one of the most important political theories ever formulated.
After four years of collaboration, they produced an incisive account of their idea of Communism, in which they envisage a society without classes, private property or a state, arguing that the exploitation of industrial workers will eventually lead to a revolution in which Capitalism is overthrown.
This vision provided the theoretical basis of political systems in Russia, China, Cuba and Eastern Europe, affecting the lives of millions.
The Communist Manifesto still remains a landmark text: a work that continues to influence and provoke debate on capitalism and class.Gareth Stedman Jones's extensive and scholarly introduction provides an unique assessment of the place of The Communist Manifesto in history, and its continuing relevance as a depiction of global capitalism.
This edition reproduces Samuel Moore's translation of 1888 and contains a guide to further reading, notes and an index.Karl Marx (1818-1883) was born in Trier, Germany and studied law at Bonn and Berlin.
He settled in London, where he studied economics and wrote the first volume of his major work, Das Kapital (1867, with two further volumes in 1884 and 1894).
He is buried in Highgate Cemetery, London.Friedrich Engels (1820-1895), as well as his collaboration with Marx, was the author of The Condition of the Working Class in England (1845), based on personal observations and research.If you enjoyed The Communist Manifesto, you might like Marx's Capital, also available in Penguin Classics.'The words of the Communist Manifesto flare like the fiery writing on the wall above the crumbling bastions of capitalist society: socialism or barbarism!'Rosa Luxemburg
Information
Format: Paperback
Pages: 304 pages
Publisher: Penguin Books Ltd
Publication Date: 27/06/2002
Category: Marxism & Communism
ISBN: 9780140447576
Other Formats
Paperback from £1.00
Hardback from £6.59
EPUB from £0.99
Paperback / softback from £3.50
Free Home Delivery
on all orders
Pick up orders
from local bookshops
Reviews
Showing 1 - 5 of 9 reviews.
Previous | Next
Review by kawgirl
16/06/2015
No matter what one's political point of view is, this is a must read for those who wish to be informed.
Review by mortensengarth
16/06/2015
visualize the lightning thunder.taboo, polar, but respectable for its meaning and impact. as impacting as the bible.
Review by rebelwriter85
16/06/2015
This is my favorite book. Everyone should be required to read it in school.
Review by sharrison
16/06/2015
A book famous for many reasons, the most obvious being its simple political impact. This book by Karl Marx, has affected the lives of millions of people in the world, and its impact is monumental. Now you have most likely heard of this book, but if you further wish to understand the thing that is Communism, and revolution which brings upon it, I strongly recommend you read this book. This book is not an easy read per say, and could most likely be summarized in about a page, but it is still a great book to skim through to further educate oneself on politics.
Review by Ramirez
16/06/2015
For many people through the years this book has been something similar to the Qur'an.It's a compelling and fascinating though short text, a look backward in time.