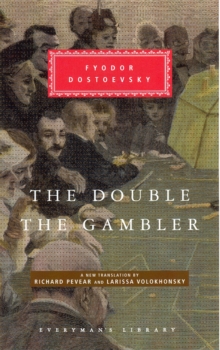 The Double and The Gambler
Hardback
Description
Two small masterpieces in one volume. First, The Double, a surprisingly modern hallucinatory nightmare that foreshadows Kafka and Sartre.
A minor official named Goliadkin becomes aware of a mysterious doppelganger - a man who has his name and his face and who gradually and relentlessly begins to displace him with his friends and colleagues.
In the dilemma of his increasingly paranoid hero, Dostoevsky makes vividly concrete the inner plurality of consciousness that would become a major theme of his work.
Second, The Gambler, a stunning psychological portrait of a young man's exhilarating and destructive addiction, a compulsion that Dostoevsky - who once gambled away his wife's wedding ring- knew intimately from his own experience.
In the disastrous love affairs and gambling adventures of Alexei Ivanovich, Dostoevsky explores the irresistible temptation to look into the abyss of ultimate risk that he believed was an essential part of the Russian national character.
Information
Format:Hardback
Pages:160 pages
Publisher:Everyman
Publication Date:11/01/2005
Category:
ISBN:9781857152951
Other Formats
EPUB from £11.54
Paperback / softback from £10.45