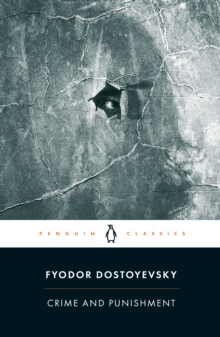 Crime And Punishment
Paperback
Description
A thrilling study of guilt and power, the Penguin Classics edition of Fyodor Dostoyevsky's Crime and Punishment is translated with an introduction and notes by David McDuff.Raskolnikov, a destitute and desperate former student, wanders through the slums of St Petersburg and commits a random murder without remorse or regret.
He imagines himself to be a great man, a Napoleon: acting for a higher purpose beyond conventional moral law.
But as he embarks on a dangerous game of cat and mouse with Porfiry, a suspicious detective, Raskolnikov is pursued by the growing voice of his conscience and finds the noose of his own guilt tightening around his neck.
Only Sonya, a downtrodden prostitute, can offer the chance of redemption.
As the ensuing investigation and trial reveal the true identity of the murderer, Dostoyevsky's dark masterpiece evokes a world where the lines between innocence and corruption, good and evil, blur and everyone's faith in humanity is tested.This vivid translation by David McDuff has been acclaimed as the most accessible version of Dostoyevsky's great novel, rendering its dialogue with a unique force and naturalism.
This edition also contains a new chronology of Dostoyevsky's life and work.Fyodor Mikhailovich Dostoyevsky (1821-1881) was born in Moscow.
From 1849-54 he lived in a convict prison, and in later years his passion for gambling led him deeply into debt.
His other works available in Penguin Classics include The Brothers Karamazov, The Idiot and Demons.If you enjoyed Crime and Punishment, you might like Leo Tolstoy's Anna Karenina, also available in Penguin Classics.'McDuff's language is rich and alive'The New York Times Book Review
Information
Format: Paperback
Pages: 720 pages
Publisher: Penguin Books Ltd
Publication Date: 31/12/2002
Category: Classic fiction (pre c 1945)
ISBN: 9780140449136
Other Formats
Paperback from £2.50
Mixed media product from £10.32
Paperback / softback from £9.99
eAudiobook MP3 from £9.79
EPUB from £1.39
Hardback from £8.35
Free Home Delivery
on all orders
Pick up orders
from local bookshops
Reviews
Showing 1 - 5 of 6 reviews.
Previous | Next
Review by soylentgreen23
16/06/2015
It seems pointless trying to write a review that's going to mean something - others have done that job better than I could.I had meant to read this book for a long time. It was like a major gap in my library, my education even, since I had never read a Dostoevsky or a Tolstoy. So, I took a copy of this down with me to the South of France when we holidayed there a few years ago, and barely moved from the couch until I'd read it. My verdict? It is as good as they say.
Review by dylanwolf
16/06/2015
If you want to start on Dostoyevsky's classics "Crime and Punishment" is the most accessible. Raskolnikov is as enthralling and troubled a protagonist as Hamlet. Now, if you don't like "anguish of the mind" Raskolnikov will drive you to distraction. For a fan of the melancholic, like me, he is just a super hero! That only leaves the problem of... Sonya. Is she just too much of a super angel? It's the only criticism of the book I can think of. Crime and Punishment is simply a staggering achievement. Even more so, I believe, than "The Brothers Karamazov" because it is so much more pared down and readable. For me, Dostoyevsky beats Dickens hands down. Dostoyevsky goes so much deeper into the human condition as well as brilliantly evoking life in 19C Moscow and is a much more modern author. What a genius he was.
Review by kettle666
16/06/2015
While working at a menial vacation job in the summer of 1960 I read Crime And Punishment during my lunchbreaks. At that time I had not read any Tolstoy, and I remember thinking that if Dostoyevsky was generally regarded as number two to Leo T then War And Peace must be my next big Russian read. And so it was, and after all these years I still feel pretty certain that Dostoyevsky is my man. I've read Tolstoy and enjoyed Anna Karenina extremely. But it is Dostoyevsky who knocked me out then and he remains the giant of Russia for me. Karamazov, The Idiot, and Crime And Punishment are my favourites. C & P is a modern psychological novel as well. It reads so well as a portrait of basic human types, struggling through all this fiddle we call our lives. War and Peace looks like a Hollywood epic compared to the subtle independent movie that is C&P.
Review by lhlogan1
16/06/2015
This is a true classic. The suspense and story-telling are fantastic. Character development is delightful and chilling. A must read!
Review by BooksOn23rd
27/01/2016
A great story of the disintegration of a psyche.