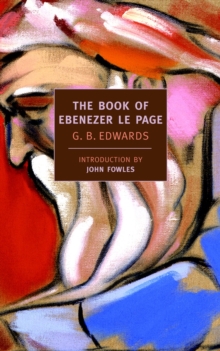 The Book Of Ebenezer Le Page
Paperback
Information
Format: Paperback
Pages: 424 pages, map.
Publisher: The New York Review of Books, Inc
Publication Date: 10/07/2007
ISBN: 9781590172339
Free Home Delivery
on all orders
Pick up orders
from local bookshops
Reviews
Showing 1 - 5 of 5 reviews.
Review by deebee1
16/06/2015
Ebenezer Le Page is a grumpy,rough, and fiercely independent 80-year old bachelor who lived in Guernsey Island all his life. In his old age, he decides to write his life story and living where he did, in a tiny crop of island, that meant writing about almost everybody. Rather than an idle rambling or a sentimental reminiscing of times and people long gone, Ebenezer's journal is as vivid and as colourful as the characters he writes about. He has seen a lot of comings and goings in his day, the island itself was no longer the same -- it has gone through two "invasions" -- the German occupation during World War II, and the hordes of British tourists in summer. Apart from this, nothing much seems to have happened in Ebenezer's life, other people's lives always seemed much more interesting than his, but he is an astute collector of memories, and what can easily pass as commonplace, takes on a larger than life quality in his narration. He writes about his early life, about members of his large extended family, the gossips which fueled fierce family feuds, the loyalty of friends, births and deaths, betrayal, love lost, Guernsey-men and -women, disillusionment and remembrance. Along all this, we glimpse how an island that was "neither English nor French", lived out the influences of these two cultures on their daily lives -- on the language, religion, on temperament. Good as well as nasty things happened to people Ebenezer cared about, new things arrived on the island that were strange and unfamiliar, and he rejoiced and suffered accordingly in his quiet, stern way. For all his tough exterior, Ebenezer's writing reflects his deep understanding of the human heart, and love for the island which was world enough for him. Ebenezer is at turns tender and funny and acerbic, and just like most old men, he goes on and on and on, but as a good storyteller does, he already has you captured well before, and it is with regret that you reach the end. The Book of Ebenezer Le Page is the only novel by G.B. Edwards, who was born in Guernsey in 1899. After his retirement as professor of literature, he chose to live a recluse's life. Edwards wrote this book when he was in his sixties, and it was published posthumously. Not much is known about him.
Review by BooksForDinner
16/06/2015
I am always fascinated by books written from such a personal, opinionated (not in a bad way) first-person POV. I love trying to piece together what other characters in the book think of the narrator, how he is viewed. Do the people of Guernsey think Ebenezer is crazy? A crackpot? WIse? I often find myself not caring for the endings of novels. Maybe they feel incomplete, maybe tacked on, etc. But this one was perfect; Ebenezer's entire life plays out in the the book and maybe he finds what he was looking for in the end after all.
Review by Widsith
16/06/2015
My impression of Guernsey, from spending a few weeks there as a journalist some years back, was that it was an island with sixty-five thousand people and barely a dozen surnames between them. You get the same idea reading <i>The Book of Ebenezer Le Page</i>, all the characters of which are continually discovered to be distant third or fourth cousins of each other. I like this novel, but it didn't make quite the impreession on me that it seems to have made on others – I wonder if the dramatic story of how it came to light at the very end of the author's life just made me want it to be more than it is. What it is is enough – a good book with a likeable and genuine central character.It has the feel of a sprawling family saga, even though it only covers the lifespan of one (enviably long-lived) Guernseyman down to the 1960s. The narrative mode is simple and declarative, and a good example (<i>pace</i> the advice of countless writers' groups) that telling rather than showing can be a nicely effective way of writing a novel when the narrative voice is sufficiently interesting. Themes and encounters occur and recur in different iterations through the story as Ebenezer circles around the things that seem to have had the most meaning for him. Although he is not a big thinker – he's a practical person rather than a philosopher – he still reasons his way to a kind of simple epiphany at the end, and in fact the ending is one of the most accomplished and moving parts of the book. The language throughout is simple but endearing, larded with Guernsey terms like 'ormering', 'terpid' or 'green-bed' as well as with flashes of that peculiar Romance dialect called by Ebenezer <i>patois</i> and known to linguists as Guernésiais. It's certainly the most interesting novel to come out of Guernsey since Hugo's <i>Les Travailleurs de la Mer</i>, and contains an interesting potted history of the island through two world wars and the start of the tourism boom. It's a good old-fashioned novel — wise, gentle, engaging, and a window on a part of Europe and a style of life that doesn't usually get much literary attention.
Review by JimmyChanga
16/06/2015
I feel inadequate to the task of reviewing this book. It's like asking me to review a person, which is impossible. But that's what this book is. More than any other character I've encountered in a book, Ebenezer comes fully fleshed. I loved him deeply, despite his flaws (or because of them), and because he doesn't bullshit. He has lived eighty odd years and he has no time for bullshit, his or anyone else's, and no reason to either. His language is rich, colloquial. Some will say quaint with a negative connotation, but quaint can also be a positive quality in a world where we are pulled apart by technology, tourism, and material goods, so much so that we can't truly see each other for who we are underneath all that.<br/><br/>The book is divided into three parts, and each with 20 chapters, and each chapter is almost OCD-like in their exact length. I imagined Ebenezer scrawling in his notebook, night after night and story after story, and just stopping when he got to the end of the page. Obviously Edwards (the author of this incredible book) was not Ebenezer, but he created a character through which the book is so real that it feels more a product of this character's handwriting and temperament than the author's own. Which is no easy task because Ebenezer is a complete outsider. He is not someone who's read Literature with a capital L. He's lived his entire life on a small island, and that's a refreshingly wonderful perspective in the world of smart, witty, worldly narrators.<br/><br/>The voice here is meandering and charming. It reminded me of listening to my own grandfather recount stories of his youth. They are almost inconsequential in that the stories don't seem to build into a grander narrative. But precisely because of this inconsequentiality they are rich with characterization and unhurried in their depiction of place, speech, customs, and people. But in part two, we see more of a bigger story building. And by part three, most of the important things in his life have already happened, and we are left with the feeling of being out of time--we are stranded on an island with Ebenezer, looking for a bit of humanity when everyone we love has gone. Stranded on an island with strangers, living in the past. <br/><br/>I related on so many levels with Ebenezer. Like me, he's super critical of others, but when he finds someone he really likes, he goes soft and will walk to the ends of the earth for them. The idea of innocents, Horace in Raymond's eyes, and Jim in Ebenezer's eyes--I am not sure if Ebenezer is not himself one of the innocents, in my eyes.<br/><br/>My review truly does not do this book justice. This is one of the most <i>alive</i> books I've read, and I couldn't help laughing and sobbing (sometimes simultaneously!) through parts of it. It really is that good. Or rather, it is beyond good or bad, it <i>breathes</i>. Now is probably a good time to stop reading this stupid fucking inarticulate review, and go get a copy of this book. NOW!
Review by HenryKrinkle
16/06/2015
A crabby old man looks back on his life. Narrated in the Guernsey dialect, it's hard to follow until you get used to Ebenezer's way of speaking. Odd and wonderful book with a heartbreaking ending.