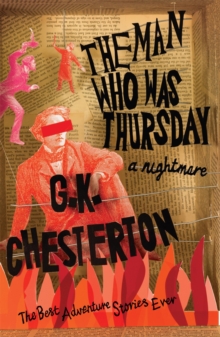 The Man Who Was Thursday: A Nightmare
Paperback
Description
A group of anarchists are under surveillance by Scotland Yard in Chesterton's hugely popular metaphysical thriller.
The Supreme Anarchists Council is dedicated to overthrowing the world order.
To keep their identities a secret, each of them has been named a day of the week.
Gabriel Syme, an eccentric poet, is recruited by Scotland Yard to infiltrate the group.
He tracks down the six men and manages to win a place on the council.
But in a bizarre and surreal twist of events, Syme realises that five of the six members are not at all what they seem...
Information
Format: Paperback
Pages: 240 pages
Publisher: Headline Publishing Group
Publication Date: 12/07/2007
Category: Crime & mystery
ISBN: 9780755338863
Other Formats
Paperback from £5.25
EPUB from £3.99
Hardback from £37.50
Free Home Delivery
on all orders
Pick up orders
from local bookshops
Reviews
Showing 1 - 3 of 3 reviews.
Review by soylentgreen23
16/06/2015
A detective inflitrates a gang of anarchists in London, cunningly gaining entry to the super-secretive 'Council of Days', led by the godly Sunday. His mission: to prevent a plot to blow up the Czar on his visit to Paris.The first half of the book is an exciting tale of wit and invention, but soon the tale becomes grossly absurd; the climax is surely allegorical but for me it was greatly unsatisfying, especially considering all the drama that had led to it.
Review by pranogajec
16/06/2015
This is a genre that might best be called "high farce," or even "surreal politico-comedy." A quick read, it does repay slower contemplation, especially in those sections where the narrator offers his metaphysical musings. This is an expertly narrated detective-action plot that lightly veils Chesterton's philosophical-religious themes, but the book is not weighed down by them. Chesterton is too good a wordsmith and crafter of compelling plot for that. Except for brief respites, the action puts us on the move, whether on foot, car, horseback or hansom cab, through the streets of London and the French countryside. And although it would be too simplistic to say Chesterton was writing a simple anti-anarchist literary manifesto, he certainly condemns anarchy's flight from human communion. His lead character Symes accuses what he believes are a group of anarchists (though it turns out that they are anti-anarchists), in a beautiful passage describing an old iron lantern (suggestive of the light of the world?) amidst one of the high points of the action: "You did not make it. You did not light it. Better men than you, men who could believe and obey, twisted the entrails of iron and preserved the legend of fire. . . . You can make nothing. You can only destroy. You will destroy mankind; you will destroy the world." But perhaps the narrator best sums up the quality of the book as a whole when describing, in the last chapter, a mesmerizing masquerade ball which "was, somehow, as absurd as Alice in Wonderland, yet as grave and kind as a love story." Perhaps I'm being stingy in not giving it five stars, but I felt the end was, not unsuccessful, but even in a book of countless twists and unanticipated escapades, somehow both too much and too little. I think some rereadings of that last chapter are in order--and it's the most beautifully written chapter in a book that revels in great word play and imagery.
Review by fothpaul
16/06/2015
Some parts very good, some extremely bizarre. A very strange end to proceedings also.