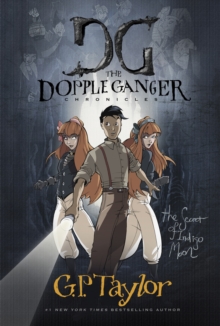 The Secret of Indigo Moon
Hardback
Description
Erik Morissey Ganger, famed explorer and detective and his mischief-making sidekicks, twins Sadie and Saskia Dopple, didn't go looking for a secret tunnel beneath the school.
They never intended to make the acquaintance of a shifty private eye with a nose for trouble.
It wasn't part of the plan to come face to face with an old enemy, one with an agenda of his own that could destroy them all. And unravelling the 'secret of indigo moon' was the farthest thing from their minds.
Erik, Sadie and Saskia plunge headlong into a new and perilous mystery, one that challenges everything they thought they knew about their lives, themselves and who it's safe to trust.
Information
Format: Hardback
Pages: 304 pages, Illustrations (chiefly col.)
Publisher: Tyndale House Publishers
Publication Date: 12/09/2009
Category: Thrillers (Children's/YA)
ISBN: 9781414319483
Free Home Delivery
on all orders
Pick up orders
from local bookshops
Reviews
Showing 1 - 2 of 2 reviews.
Review by skstiles612
16/06/2015
I must say right up front I am not a big fan of graphic novels. Because I'm always trying to find ways to get my students to read; and because my students love graphic novels, I decided to give this book a try. I am glad I did. For me so many graphic novels are more pictures than words. This series has a great balance of both. This is the second book in the Dopple Ganger Chronicle. Erik Morissey Ganger and twins Sadie and Saskia Dopple find themselves once more in the thick of things. They have another mystery to solve. In this ook they must face a enemy they met in the first book "The First Escape". With the help of Madame Raphael they may just have a chance of surviving and solving the mystery. This series will go on my shelves and I will talk it up and recommend it to all of my students.
Review by LadyD_Books
16/06/2015
I am new to the world of developing a storyline that is partly pictorial and partly text. Reading The Secret of Indigo Moon, the second book of DG The Dopple Ganger Chronicles, introduced me to an adventurous drama of crime and separation with two identical twins, Saskia and Sadie, along with an inspirational message of Christian hope woven in.Beautifully written by the #1 New York Times Bestselling Author, G.P. Taylor, I soon discovered Mr. Taylor had a unique writing style of finding a good story and illustrating it with great visuals. This keeps young people happy and ignites them to read more. What a very successful idea, kind of a novel/comic book.This book is a real page turner with lots of twists and turns to spark your interest until the very end. If you have a juvenile reader with a short attention span, this is a great reading source for them. Read the chilling mystery of what became of Ms. Olivia, the previous schools administrator.I especially love the relationships and funny dialogue between Erik, Sadie and Saskia. The name Dorcas Potts, a 24 year old American detective, cracks me up along with her sassy personality. And my favorite quote is on Page 190: "Sometimes to find wisdom you have to look beyond locked rooms."If you are a fan of Bruce Willis, Batman and Laura Croft, you will LOVE reading about secret passageways, plus lots of disguises and cover ups. I recommend The Secret of Indigo Moon to middle school students and their parents who like this style of literature.Being a biker chic (long time ago) and having played lots of rock music, I can relate to some of the author's vision. Being a grandma of 3 wonderful grandsons who love adventure, this will be an added plus to our reading library. 4*