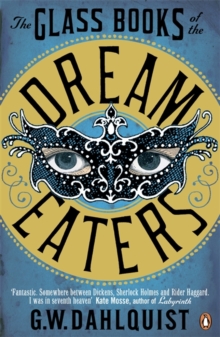 The Glass Books of the Dream Eaters
Paperback
Description
G.W. Dahlquist's The Glass Books of the Dream Eaters, the first in the series of adventures of Miss Temple, Cardinal Chang and Dr Svenson and followed by The Dark Volume and The Chemickal Marriage, is a rip-roaring tale like no other. In The Glass Books of The Dream Eaters three most unlikely but nevertheless extraordinary heroes become inadvertently involved in the diabolical machinations of a cabal bent upon enslaving thousands through a devilish 'process': Miss Temple is a feisty young woman with corkscrew curls who wishes to learn why her fiance Roger broke off their engagement...Cardinal Chang was asked to kill a man, but finding his quarry already dead he is determined to learn who beat him to it and why...And Dr Svenson is chaperone to a dissolute Prince who has become involved with some most unsavoury individuals...An adventure like no other, in a mysterious city few have travelled to, featuring a heroine and two heroes you will never forget.
Fantastic. Somewhere between Dickens, Sherlock Holmes and Rider Haggard.
I was in seventh heaven - Kate Mosse, author of Labyrinth A page-turner, a rollicking ride. As stupendous as it is stupefying - Giles Foden, Guardian An erotically charged, rip-roaring adventure for adults with scarcely a dull moment to be had, which defies its great length to keep the reader on the edge of his seat - Daily Mail G.W.
Dahlquist fell asleep when trapped by a snowstorm, and The Glass Books of the Dream Eaters came to him in his dreams.
He is the author of the The Dark Volume and The Chemickal Marriage, the next books in the series.
Information
Format: Paperback
Pages: 784 pages
Publisher: Penguin Books Ltd
Publication Date: 03/01/2008
ISBN: 9780141027302
Free Home Delivery
on all orders
Pick up orders
from local bookshops
Reviews
Showing 1 - 5 of 10 reviews.
Previous | Next
Review by shanlon
16/06/2015
Glass Books of the Dream Eaters was good but far too long for what it was. It's exciting stuff, with good characters, adventure, conspiracies, violence and a good helping of smuttiness, but it really needs to lose a couple of hundred pages.The cover quotes compare it to the works of H. Ryder Haggard and Arthur Conan Doyle. These authors, I note, wrote considerably shorter books!
Review by soliloquies
16/06/2015
Really enjoyed this book, even though it was over long and lost it's way at times.
Review by turtlesleap
16/06/2015
The plot is afoot and the sinister villains, who seem numberless, and who all have long, unpronounceable names, are out to corrupt everyone and rule the world. Our three heros (well, one is a heroine) ally themselves against the forces of evil for reasons that are never made completely clear (as is true of so much in this book) and, through an unbelievable and seemingly endless series of derring do rescues, hairsbreadth escapes, breaking and entering, spying through peepholes, wandering aimlessly around the manse, and generally getting beat up, mauled and seduced, they wend their way to the denouement of this story. This might have been a better book if it had been about 300 pages shorter (750 pages is a lot of derring do, especially when it sometimes seems to be set on automatic replay) and if the author had taken time to think through the logic of some of the situations. I won't be reading the sequel.
Review by MyopicBookworm
16/06/2015
Like many, I found this book engaging to start with, but struggled as it went on and our two heroes and heroine continued to battle through anterooms, secret passages, and occasional train compartments, becoming more and more bloodstained, scarred, injured, and (especially in the case of the heroine) scantily dressed. There are only so many encounters with daggers, revolvers, sabres, and the like that one can manage, and the plot was over-complicated by multiple locations. The shifting viewpoint between the main characters worked well to begin with, but in the later part of the book the dislocation in the chronology (and the failure to keep the shifts confined withint chapter divisions) became disruptive. The plot grew repetitive (as some reviewers note, it probably worked better in instalments) and the sheer number of evil characters with overlapping and conflicting motives became bewildering. The constant gratuitous erotic (often practically pornographic) component became cloying: by the time I reached the end of the book it felt as though my hands might be sticky from some disgusting combination of lipstick, perfume, over-sweet liqueurs, and bodily fluids. Some scenes did indeed read like film scenarios rather than plot sections for a novel.Reading the reviews, I was amused by the number that described the setting as an alternate London. This is not London, not even in a dream. The setting is Ruritanian and has very little English resonance apart from the names of a couple of characters (Temple and Bascombe). The whole paraphernalia of city hotels, dragoons, and minor aristocracy with unpronounceable names, together with the geographical hints of canals and salt marshes, point to somewhere in northern continental Europe.MB 7-viii-2013
Review by phoebesmum
16/06/2015
If I were in a good mood, I would call this a sprawling behemoth of a novel. If I were not, I would refer to it as maundering tosh. In either case I can tell you for a fact that I got bored and skipped about 200 pages (as it's over 700 pages long, I'm still counting it as 'read', if only for the hours I'll never get back), and still managed to keep up with the plot. This is largely because it's written from three points of view, and any time the characters meet they are at pains to tell one another what's been happening in their particular story thread, usually in some detail. Somewhere within those 700 pages there is material for a halfway decent graphic novel. Elsewhere there is a heck of a lot of padding. Oh, and here and there some would-be erotic bits, apparently thrown in at random, and which have all the effect of a five-year-old saying 'fuck' at the dinner table. Yes, dear, very shocking, now put it away and finish your broccoli.