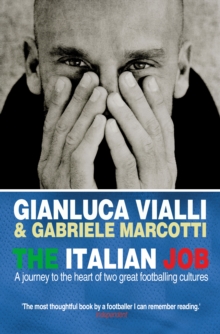 The Italian Job
Paperback
Description
Football lies at the heart of popular culture in both England and Italy.
It is played, watched, written about and talked to death by millions virtually every day of the year.
But how do the characteristics of England and Italy affect the game in these two footballing nations?
Do the national stereotypes of Italians as passionate, stylish lotharios and the English as cold-hearted eccentrics still hold true when they kick a ball around?
In The Italian Job, for the first time, a footballer of the first rank, Gianluca Vialli, in conjunction with sportswriter and broadcaster Gabriele Marcotti, tackles this debate head on.
Uniquely positioned across both the English and the Italian games, they provide a fascinating and highly controversial commentary on where football is now and where it's headed. And they have invited some of the biggest names in the sport to join in their discussion.
Sir Alex Ferguson, Jose Mourinho, Arsene Wenger, Sven Goran Eriksson, Fabio Capello and Marcello Lippi, amongst others, add their not inconsiderable weight to the highest-profile symposium on football ever convened. Gianluca Vialli and Gabriele Marcotti explore every aspect of football, be it tactical and technical or cultural and sociological.
Stuffed full of controversial opinions and gripping revelations, The Italian Job takes you on a journey to the very heart of two of the world's great footballing cultures.
Free Home Delivery
on all orders
Pick up orders
from local bookshops
Reviews
Showing 1 - 1 of 1 reviews.
Review by callmecayce
16/06/2015
I started this book a few years ago, got distracted from it and then started reading a few pages at a time before bed. It turned out to be the perfect bed time reading, not because it was dry (because it's the opposite) but because it's engaging enough to keep me reading, but not so much that I don't have problems putting it down, like a novel. I don't know how much Marcotti had to do with this book, but Vialli's voice is one I really enjoy reading. I liked his opinions, interspersed with his personal experiences as both a player and a coach. It's one thing to read a book about soccer written by a fan or a journalist, it's another to read one by a former footballer who clearly has enough intelligence to get his ideas across, even with the help of a journalist. I especially liked that my book had a post-script, added after the '06 WC, which gave us some follow up.