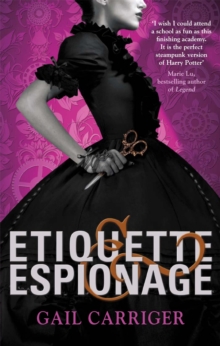 Etiquette and Espionage
Paperback
Description
It's one thing to learn to curtsy properly. It's quite another to learn to curtsy and throw a knife at the same time.
Welcome to finishing school. Sophronia is a great trial to her poor mother. Sophronia is more interested in dismantling clocks and climbing trees than proper manners-and the family can only hope that company never sees her atrocious curtsy.
Mrs. Temminnick is desperate for her daughter to become a proper lady.
So she enrolls Sophronia in Mademoiselle Geraldine's Finishing Academy for Young Ladies of Quality.
But Sophronia soon realizes the school is not quite what her mother might have hoped.
At Mademoiselle Geraldine's young ladies learn to finish ...everything.
Certainly, they learn the fine arts of dance, dress, and etiquette, but they also learn to deal out death, diversion, and espionage - in the politest possible ways, of course.
Sophronia and her friends are in for a rousing first year's education.
Information
Format: Paperback
Pages: 320 pages
Publisher: Little, Brown Book Group
Publication Date: 01/02/2013
Category: Science fiction
ISBN: 9781907411588
Free Home Delivery
on all orders
Pick up orders
from local bookshops
Reviews
Showing 1 - 5 of 6 reviews.
Previous | Next
Review by krau0098
16/06/2015
This was a super fun read. Previously I had read Carriger's Parasol Protectorate series and really enjoyed it. So, I was very excited to see that Carriger was starting a young adult series set in the same world. The second book in this series, Curtsies and Conspiracies, is scheduled to publish in November 2013. This story is about a girl named Sophronia Temminnick who is sent to boarding school for being an unmanageable young woman. When she gets there she finds that the boarding school isn't teaching exactly what she expected.This book is fast-paced and well written. It is a bit of a mystery in a Victorian setting and has steampunk elements throughout. Sophronia is an interesting heroine. There's nothing extraordinary about her except for the fact that she sees opportunities where others don't and she's practically fearless. I really enjoyed her pluckiness and her willingness to have fun and try new things. The girls go to finishing school basically in a floating dirigible, this is super creative and interesting and provides a wonderful setting for the story.There really isn't any romance in this book, but Sophronia does make friends with many of the other girls. All of the girls are interesting characters and add a lot to the story. There is a lot about friendship and loyalty addressed throughout the book. Along the way Sophronia meets a young girl named Genevieve who likes to dress as a boy and invent things...this is a character that we meet as an adult in the Parasol Protectorate series. It was kind of fun, having read the Parasol Protectorate series, to try and guess who was related to who from that series.The book moves at a fast paced and is a super fun read. The story is well written and the plot keeps you guessing. I found the characters to be engaging and easy to relate to.Overall this book was a great, light-hearted read and a wonderful beginning to new steampunk series. Sophronia goes on a number of wild capers and is just pure fun to read about. There is a lot of humor in this book but it never goes over the top. Highly recommended to steampunk fans.
Review by cissa
16/06/2015
I've enjoyed the "Parasol Protectorate" novels a lot, but this one was even more fun.It's set in the same world, I think somewhat before the PP series, and focuses more on intrigue and steampunk, and less on the vamps and weres.Plus- as an American who went to local public schools, I have always ADORED boarding-school fiction! And a boarding school on an airship??? with the companion school for boys devoted to developing Evil Geniuses??? What's not to love?OK, the kids don't Save The World. What kids really can expect to? but they do rise to their challenges, outwit the adults, and have a grand time doing it.A good ending, but with enough threads left that #2 can pick up nicely.I think a lot of Harry Potter fans could love this, if they're OK with the focus being on GIRLS (the horror!).Highly recommended. And for YA's, too!
Review by DeweyEver
16/06/2015
start of a new series: Finishing School. adventure, humor. strong female characters. Gail Carriger does not write fast enough!!!
Review by DeweyEver
16/06/2015
This great new addition to the steampunk genre features a sharp main character, Sophronia, who is recruited to a secretive finishing school and uses new-found skills along with her intuitions to uncover a mystery. Readers of the Leviathan series by Scott Westerfeld and the Harry Potter books will enjoy the Finishing School series.
Review by Erratic_Charmer
16/06/2015
A bit of light young adult fiction that I picked up to celebrate the return of the Leeds Steampunk Market on the first weekend of March! Gossip Girl meets Jules Verne meets True Blood (but without any of the more risqué elements of the latter). I smiled and laughed out loud at a few parts. I'm looking forward to reading the second volume in this series, Curtsies & Conspiracies (can 'Teacakes and Treachery' be far behind?)
Also in the Finishing School series | View all