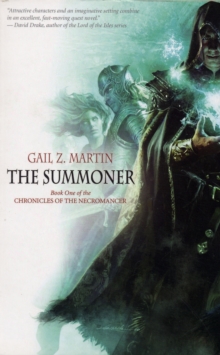 Description
The comfortable world of Martris Drayke, second son of King Bricen of Margolan, is shattered when his older half-brother, Jared, and Jared's dark mage, Foor Arontala, kill the king and seize the throne.
Tris is the only surviving member of the royal family aside from Jared the traitor.
Tris flees with three friends: Soterius, captain of the guard; Carroway, the court's master bard; and Harrtuck, a member of the royal guard.
Tris harbors a deep secret. In a land where spirits walk openly and influence the affairs of the living, he suspects he may be the mage heir to the power of his grandmother, Bava K'aa, once the greatest sorceress of her age.
Such magic would make Tris a Summoner, the rarest of magic gifts, capable of arbitrating between the living and the dead.
Information
Format: Paperback
Pages: 640 pages, map
Publisher: Rebellion
Publication Date: 01/01/2007
Category: Fantasy
ISBN: 9781844164684
Free Home Delivery
on all orders
Pick up orders
from local bookshops
Reviews
Showing 1 - 5 of 19 reviews.
Previous | Next
Review by inserttitlehere
16/06/2015
This book didn't feel like the large-ish book that it is. It was rather captivating and I felt that the characters were well-described and easy to fall in love with. This book the is first and only novel of this incomplete series (at the time of this review), so don't read if it irritates you to read a huge book and have it cut-off and then not being able to pick up the next one for months or even years. I still highly recommend this though, it's beautifully written and kept me (at the moment a rather jumpy reader) interested enough to finish it.Highly recommended!
Review by Caden
16/06/2015
Prince Matris is on the run from his evil brother. He suspects he is the heir of his grandmother's powers as a summoner which enable hims to mediate between the living and the dead.This is very very good. Something a bit different and once I started I couldn't put it down.
Review by elric17
16/06/2015
I was concerned about picking up a book of this length from an author, I had never heard of before. Of course now I can not wait for the next book in the series. An enjoyable read and coming of age story in a quite detailed and rich world.
Review by schpenke
16/06/2015
In my increasing search to find interesting fantasy novels after being turned off by them for so long I was incredibly pleased to find this one so entertaining. The book is around the 640 page mark so it's not a quick read by any stretch of the imagination. It certainly didn't feel like a long read and I was very sad to see it end.The basic premise is that the main character's family is killed by his wicked half-brother. Very cliche. All similarities to any other book ends here, fortunately. The main character, Tris, finds that he is a Summoner. There are only a handful of known Summoners to ever have existed which blends itself nicely into the main story as Tris tries desperately to escape from his half-brother while gaining in power and control of his magic.The book is filled with lots of sword fights, magic, slavers, monsters, bandits, healers, and "Eastern" fighting styles. Very fun read and highly recommended. My only problem with the book is that it's the first in a trilogy which has yet to be completed. In fact, book two isn't released until February 2008! So there will be a sad four month gap until I can see how the story progresses. :/ Crap.
Review by Redthing
16/06/2015
I was a bit skeptical about this book at first. New author, first book, really lengthy, and the main character was of royalty. Sounded like the perfect cookie cutter book. Your average joe, run-of-the-mill, mathematical formula-like novel. I was willing to give it a shot. I was highly rewarded. A good storyline, although somewhat predictable, was found, and it kept me interested until the end. The characters were awesome, and the action was well orchestrated and placed at the appropriate times. The book did not seem lengthy at all. In fact, it flew by quickly. I can't wait for the second novel to be released next year.
Also in the Chronicles of the Necromancer series