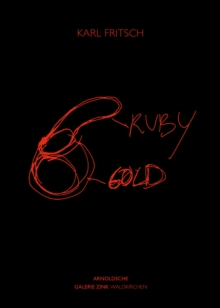 Karl Fritsch: Ruby Gold
Hardback
Description
Karl Fritsch (b. 1963), master of extravagant rings, returns with a publication that lures us deep into his world.
Ruby Gold is a "no-frills" pared-back book, without pagination, without essays.
Instead it comprises 81 rings from the past 20 years featuring embedded gemstones and such memorable slogans as "Fuck Off" and "Nudelsuppe" (Noodle Soup). The jewellery artist's unmatched mastery of material and expression is apparent in every single ring, and every piece possesses tremendous energy as a result of the delicate yet archaic handling of the precious metals: Karl Fritsch carves in silver, shapes in gold, sets rubies and zirconias as a child would decorate a cake - with self-confidence and with no regard for waste. In between the detailed illustrations, Fritsch brings the rings and fingers into ironic dialogues with each other: "Ring: I am art. / Finger: Oh come on..." And: "Ring: I am a ring. / Finger: You are unwearable."Text in English and German. Published to accompany an exhibition at Galerie Zink, Waldkirchen, Germany, 12 September - 20 December 2020.
Information
Format:Hardback
Pages:168 pages, 68 colour
Publisher:Arnoldsche
Publication Date:25/11/2020
Category:
ISBN:9783897906143