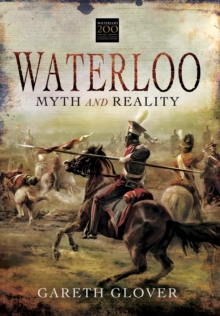 Waterloo : Myth and Reality
Hardback
Description
More has probably been written about the Waterloo campaign than almost any other in history.
It was the climax of the Napoleonic Wars and forms a watershed in both European and world history.
However, the lethal combination of national bias, wilful distortion and simple error has unfortunately led to the constantly regurgitated traditional 'accepted' version being significantly wrong regarding many episodes in the campaign.
Oft-repeated claims have morphed into established fact and, with the bicentenary of this famous battle soon to be commemorated, it is high time that these are challenged and finally dismissed.
Gareth Glover has spent a decade uncovering hundreds of previously unpublished eyewitness accounts of the battle and campaign, which have highlighted many of these myths and errors.
In this ground-breaking history, based on extensive primary research of all the nations involved, he provides a very readable and beautifully balanced account of the entire campaign while challenging these distorted claims and myths, and he provides clear evidence to back his version of events. His thoughtful reassessment of this decisive episode in world history will be stimulating reading for those already familiar with the Napoleonic period and it will form a fascinating introduction for readers who are discovering this extraordinary event for the first time.
Information
Format: Hardback
Pages: 256 pages, 40 colour and black-and-white illustrations
Publisher: Pen & Sword Books Ltd
Publication Date: 30/05/2014
Category: European history
ISBN: 9781781593561
Free Home Delivery
on all orders
Pick up orders
from local bookshops
Reviews
Showing 1 - 1 of 1 reviews.
Review by atticusfinch1048
27/08/2015
Waterloo Myth and RealityWith the 200th anniversary of the Battle of Waterloo passing there has been an outburst of books in Great Britain to celebrate and remember that particular battle. Since the Battle ended 200 years ago there have been 80,000 books published on the subject that covers every subject, every cannonball, armour and uniforms, every stretch of the battlefield has been covered.It is always welcome when a new book on the subject approaches Waterloo from a different standpoint which is very welcome and much needed. Since the end of the Battle a great deal of myth and legend has grown from it, from Rothschild making money on the battle by controlling the news back to London and the then Stock Exchange. Waterloo Myth and Reality by Gareth Glover ably knocks that particular myth down as he does with many others throughout the book.This book looks at Napoleon's return from Elba and his way back to Paris and looks at the back ground the rise and rise of Napoleon and how he rebuilt an army that was nonexistent after defeat and exile. Itself an achievement in its own right.As well as looking at the return of Napoleon, this excellent book examines things such as the Allied Preparations, the Weaponry and tactics. There are some excellent maps that explain the positions of the combatants during the invasion of Belgium, and what the Allied Response was. This book also disassembles the legendary Duchess of Richmond's ball something which has gained mythical status over the centuries.The battles that eventually led to the finale at Waterloo are covered in detail with some excellent explanations and analysis to how and why Waterloo was chosen by Wellington. The Defence of Hougoumont is discussed and analysis in detail again with some excellent maps to aid the read in their understanding of military positions and attack lines.There is an excellent chapter on The Prussians who are often forgotten in British accounts, but without whom Wellington would not have won at Waterloo. The French still think that the English cheated at Waterloo by having the Prussians there to aid them, so they won the moral victory according to the French.The final chapters are of interest because they cover what happened after the battle upon which a great deal of myth and legend has grown down the centuries, here the myth and realities are brought to life. This book also deals with the aftermath very well especially the Inheritance because as the author points out the French Opposition had been beaten but not crushed. It must also be understood that it is from Waterloo that a 'guilt' clause first arose and attitudes also changed towards the French from all her neighbours.Waterloo Myth and Reality is an excellent and informative book with a great deal of explanation, pictures, diagrams and maps to help you learn more about the Battle. This is an excellent addition to the celebrations and you can learn something in every chapter and at the same time an enjoyable read.