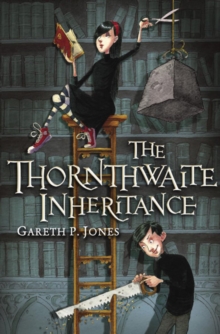 The Thornthwaite Inheritance
Paperback
Description
Ovid and Lorelli Thornthwaite have been trying to kill each other for so long that neither twin can remember which act of attempted murder came first.
But whoever struck first, trying to take each other's lives is simply what they do.
Until one day a lawyer arrives at their house to take stock of its contents, and his accompanying son attracts their attention.
Soon a new battle evolves - one in which the twins have to work together to solve the mystery of their parents' deaths.
Can Lorelli and Ovid overcome their old animosities, and will they ever get to finish that game of chess?
Information
Format: Paperback
Pages: 288 pages
Publisher: Bloomsbury Publishing PLC
Publication Date: 01/06/2009
Category: General
ISBN: 9780747599821
Free Home Delivery
on all orders
Pick up orders
from local bookshops
Reviews
Showing 1 - 5 of 5 reviews.
Review by Rubbah
16/06/2015
A new darkly humourous book for childrne in the same vein as Debi Gliori or Lemony Snicket. Lorelli and Ovid have always tried to to kill each other, but on their thirteenth birthday Ovid declares a truce. In order to make this binding, they call the family lawyer who was last called to the house in the year that his wife, the Thornthwait's parents, and a local historian died. What follows is a twisted story of murder and deception, and you never know who to suspect.
Review by LarissaBookGirl
16/06/2015
Wealthy and noble twins Lorelli and Ovid Thornthwaite have, for as long as either can remember, been attempting to take each others lives. Although neither can say for curtain who struck first, or why, it is of little consequence, as all that matters now is being the first to succeed in killing the other.On their thirteenth birthday the twins decide on a truce. The truce does not last long however, as attempts are made on the lives of Lorelli and Ovid, although neither will claim responsibility. But are they responsible, or has someone else decided to murder the Thornthwaite twins?Lorelli and Ovid's isolated and quiet, sombre existence at Thornthwaite Manor is rocked as intruders enter their lives and their home. Everyone, it seems, has a secret to hide and a motive for murder. To Lorelli it is not so much as a who-dun-it? as it is a who-dun what?.The Thornthwaite Inheritance is a witty, whimsical and murderously clever story, full of lively, colourful and quirky characters. A difficult book to put down. An amusing and entertaining read that from the first page will put a smile on your face, a smile that will linger long after the last line is read.
Review by beyondelsewhere
16/06/2015
This was hilarious and suspenseful. You can't trust anyone. I loved it!
Review by phoebesmum
16/06/2015
This is never going to win any prizes for originality – it's a fairly standard late entry to the field of light/juvenile Gothic that includes 'A Series of Unfortunate Events' and 'The Gashleycrumb Tinies' - and it's not likely to win any prizes for great literature either, or for startling plot twists: you're likely to guess the villain by the second page. Still, it has some good ideas, and some interesting characters, and would probably make a not-bad children's film. That might even have been the author's main intention.
Review by Yellow-flash
16/06/2015
The book was so exciting I couldn't predict whats going to happen next, it was surprising how the events were connected to each other. I enjoyed reading this book.