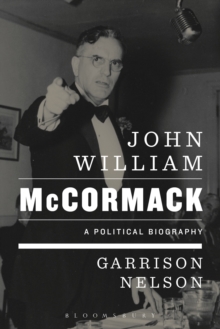 John William McCormack : A Political Biography
Paperback / softback
Description
In the first biography of U.S. House Speaker John W. McCormack, author Garrison Nelson uncovers previously forgotten FBI files, birth and death records, and correspondence long thought lost or buried.
For such an influential figure, McCormack tried to dismiss the past, almost erasing his legacy from the public's mind.
John William McCormack: A Political Biography sheds light on the behind-the-curtain machinations of American politics and the origins of the modern-day Democratic party, facilitated through McCormack's triumphs. McCormack overcame desperate poverty and family tragedy in the Irish ghetto of South Boston to hold the second-most powerful position in the nation.
By reinventing his family history to elude Irish Boston's powerful political gatekeepers, McCormack embarked on a 1928 - 1971 House career and from 1939-71, the longest house leadership career.
Working with every president from Coolidge to Nixon, McCormack's social welfare agenda, which included Social Security, Medicare and Medicaid, immigration reform, and civil rights legislation helped commit the nation to the welfare of its most vulnerable citizens.
By helping create the Austin-Boston Connection, McCormack reshaped the Democratic Party from a regional southern white Protestant party to one that embraced urban religiously and racially diverse ethnics. A man free of prejudice, John McCormack was the Boston Brahmin's favorite Irishman, the South's favorite northerner, and known in Boston as "Rabbi John," the Jews' favorite Catholic.
Information
Format: Paperback / softback
Pages: 928 pages
Publisher: Bloomsbury Publishing PLC
Publication Date: 23/01/2020
Category: History of the Americas
ISBN: 9781350143234