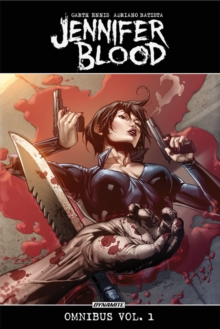 Jennifer Blood Omnibus TPB
Paperback / softback
Description
Meet Jennifer Fellows, your average suburban housewife.
Every day she makesbreakfast, takes the kids to school, cleans the house, naps for an hour or two,makes dinner, puts the kids to bed, and kisses her husband goodnight then hopesthe drugs she gave them in their dinner keeps them asleep untilmorning. Meet Jennifer Blood, ruthless vigilante. Every night she stalksthe underworld on a personal vendetta against organized crime, determined toobliterate the parasites and scum who run the city's rackets. But, can shekeep her dual life separate?This suburban punisheris ready to be unleashed in a story that can only be told by the legendary GarthEnnis.
Collecting the first three volumes of the hit series,Garth Ennis'Jennifer Blood Volume 19781606902615Jennifer Blood Volume 29781606903353Jennifer Blood Volume 39781606903865Jennifer Blood Volume 49781606904558The Ninjettes 9781606903667along with additional bonus material, sketches,cover gallery, and interview with Garth Ennis!
Information
Format: Paperback / softback
Pages: 744 pages
Publisher: Dynamite Entertainment
Publication Date: 15/10/2019
Category: Crime & mystery
ISBN: 9781524108625
Free Home Delivery
on all orders
Pick up orders
from local bookshops