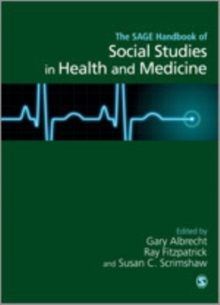 The Handbook of Social Studies in Health and Medicine
Hardback
Description
'Designed for students and professionals in the social sciences and health fields, this handbook is easy to use when searching for specific ideas, theorists and topics and contains helpful diagrams which make understanding easier... overall it provides a wealth of knowledge' - HealthmattersThis is the first international and inter-disciplinary social science Handbook on health and medicine.
Five years in the making, and building on the insights and advice of an international editorial board, the book brings together world-class figures to provide an indispensable, comprehensive resource book on social science, health and medicine.
Pinpointing the focal issues of research and debate in one volume, the material is organized into three sections: social and cultural frameworks of analysis; the experience of health and illness; and health care systems and practices.
Each section consists of specially commissioned chapters designed to examine the vital conceptual and methodological practice and policy issues.
Readers receive not only a complete survey of social science, health and medicine in one volume, they are further provided with an authoritative guide to methodologies, key concepts, central theoretical traditions and an agenda for future research and practice.
The Handbook answers the need, expressed by social scientists and medical practitioners, for an authoritative, inter-disciplinary study which demonstrates the contribution and promise of social science disciplines in the crucial and rapidly changing field of health and medicine.
The book will also be of interest to nurses, students in physical therapy, occupational therapy, epidemology, primary care and public health.
The Handbook signals the coming of age of the social sciences in the arenas of medicine and health studies
Information
Format: Hardback
Pages: 546 pages
Publisher: SAGE Publications Inc
Publication Date: 22/10/1999
Category: Sociology & anthropology
ISBN: 9780761956174