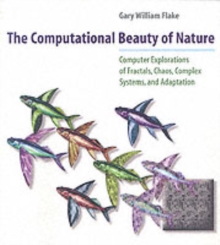 The Computational Beauty of Nature : Computer Explorations of Fractals, Chaos, Complex Systems, and Adaptation
Paperback
Description
Gary William Flake develops in depth the simple idea that recurrent rules can produce rich and complicated behaviors."Simulation," writes Gary Flake in his preface, "becomes a form of experimentation in a universe of theories.
The primary purpose of this book is to celebrate this fact."In this book, Gary William Flake develops in depth the simple idea that recurrent rules can produce rich and complicated behaviors.
Distinguishing "agents" (e.g., molecules, cells, animals, and species) from their interactions (e.g., chemical reactions, immune system responses, sexual reproduction, and evolution), Flake argues that it is the computational properties of interactions that account for much of what we think of as "beautiful" and "interesting." From this basic thesis, Flake explores what he considers to be today's four most interesting computational topics: fractals, chaos, complex systems, and adaptation.Each of the book's parts can be read independently, enabling even the casual reader to understand and work with the basic equations and programs.
Yet the parts are bound together by the theme of the computer as a laboratory and a metaphor for understanding the universe.
The inspired reader will experiment further with the ideas presented to create fractal landscapes, chaotic systems, artificial life forms, genetic algorithms, and artificial neural networks.
Information
Format: Paperback
Pages: 520 pages
Publisher: MIT Press Ltd
Publication Date: 27/01/2000
Category: Cybernetics & systems theory
ISBN: 9780262561273
Free Home Delivery
on all orders
Pick up orders
from local bookshops
Reviews
Showing 1 - 1 of 1 reviews.
Review by mobill76
16/06/2015
I feel a strange draw towards two poles. I love the highly technial man-made achievements and I love the completely unspoiled "nature of nature". This book sythesizes the two extremes beautifully. As our computers push the envelope of mathematics, we are better able to sythesize and understand the structure and appearance of natural things. This book added to my appreciation of nature by showing me the level of computation required to simulate it. At the same time, it added to my appreciation of science by tying it to the emotional response that I feel when I see beauty in nature.<br/><br/>Very little of this is really share-able in a high school classroom. The kids love the fractals and this book helps explain the practical applications of fractals. But fractals weren't even in the CA teaching standards in the first place, so it's all kindof extra-curricular.<br/><br/>But, it's a beautiful book. Beautiful in the way that "Eternal Golden Braid" was beautiful. And much more concise.