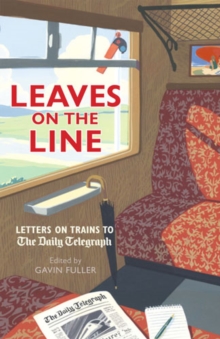 Leaves on the Line : Letters on Trains to the Daily Telegraph
Hardback
Description
Whether it's leaves on the line or the wrong kind of snow, whether the extortionately priced, curled-up sandwich on sale in the buffet car, or the militancy of the rail unions that seem to be endlessly on strike over nothing, everyone in Britain has an opinion about our railways.
After the weather, they are probably the country's most reliable talking point.
With Telegraph readers being the trenchant, choleric and waggish letter-writers that they are, our railways have always figured high on the list of subjects requiring a missive to the Editor.
Now, in this fascinating and hilarious selection, Gavin Fuller has put together the best letters on trains to the paper over the years.
Here is the end of Steam and the start of Eurostar; the punctuality of Swiss trains and the signal failures of ours; the laments for the branch lines lost under the Beeching cuts, and also for the much-missed peace and quiet of a railway carriage, replaced by the menace of personal stereos and fellow passengers booming, 'I'm On The Train!' into their mobile phones.
Free Home Delivery
on all orders
Pick up orders
from local bookshops
Reviews
Showing 1 - 1 of 1 reviews.
If I had compiled this collection, I would have ordered the letters from present to past because although the whole book is entertaining, it's those complaints and comments in the early sections of the book that had me LOLing as I read this on the train (while judging some lady in front of me for reading Fifty Shades of Grey before realising I was reading a book about letters complaining about trains - so yeah...).<br/><br/>Some of those early letters conjure up images of terse straight-backed ladies wot open windows in smoking carriages and annoy the tar out of grumpy befuddled bowler-hatted cigar-smoking Wodehouse characters. The letter that complained of these lady-hating ladies who wander into smoking carriages and cause discomfort to no end was hilarious enough on its own, but the responses were gold too.<br/><br/>I got a little bored as the book caught up with the more modern day complaints, but it's a pretty fun read the whole way through. It has the kind of letters you'd imagine are being written, if you're a train commuter in this fair land of ours. A particularly memorable letter was one that questioned if train food services actually had killed a rhino (I really hope I'm not making this up - it's been a while since I read this book).<br/><br/>Fun read.
Also in the Telegraph Books series | View all