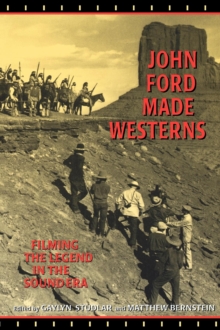 John Ford Made Westerns : Filming the Legend in the Sound Era
Paperback / softback
Description
Fresh perspectives on some of the most influential films of John Ford. The Western is arguably the most popular and enduring form in cinematic history, and the acknowledged master of that genre was John Ford.
His Westerns, including The Searchers, Stagecoach, and The Man Who Shot Liberty Valance, have had an enormous influence on contemporary U.S. films, from Star Wars to Taxi Driver. In John Ford Made Westerns, nine major essays by prominent scholars of Hollywood film situate the sound-era Westerns of John Ford within contemporary critical contexts and regard them from fresh perspectives.
These range from examining Ford's relation to other art forms (most notably literature, painting, and music) to exploring the development of the director's reputation as a director of Westerns.
While giving attention to film style and structure, the volume also treats the ways in which these much-loved films engage with notions of masculinity and gender roles, capitalism and community, as well as racial, sexual, and national identity. Contributors include Charles Ramirez Berg, Matthew Bernstein, Edward Buscombe, Joan Dagle, Barry Keith Grant, Kathryn Kalinak, Peter Lehman, Charles J.
Maland, Gaylyn Studlar, and Robin Wood. ContentsPart IIntroduction, Gaylyn Studlar & Matthew Bernstein "'Shall We Gather at the River?': The Late Films of John Ford," Robin Wood "Sacred Duties, Poetic Passions: John Ford and Issue of Femininity in the Western," Gaylyn Studlar"The Margin as Center: The Multicultural Dynamics of John Ford's Westerns," Charles Ramirez Berg "Linear Patterns and Ethnic Encounters in the Ford Western," Joan Dagle "How the West Wasn't Won: the Repression of Capitalism in John Ford's Westerns," Peter Lehman "Painting the Legend: Frederic Remington and the Western," Edward Buscombe "'The Sound of Many Voices': Music in John Ford's Westerns," Kathryn Kalinak "John Ford and James Fenimore Cooper: Two Rode Together," Barry Keith Grant "From Aesthete to Pappy: The Evolution of John Ford's Public Reputation," Charles J.
MalandPart II-DossierEmanuel Eisenberg, "John Ford: Fighting Irish," New Theater, April 1936Frank S.
Nugent, "Hollywood's Favorite Rebel," Saturday Evening Post, July 23, 1949John Ford, "John Wayne-My Pal," Hollywood, no. 237 (March 17, 1951), translated from the Italian by Gloria MontiBill Libby, "The Old Wrangler Rides Again," Cosmopolitan, March 1964"About John Ford," Action 8.8 (Nov.-Dec. 1973)
Information
Format: Paperback / softback
Pages: 344 pages, 62 b&w photos, 1 bibliog., 1 index
Publisher: Indiana University Press
Publication Date: 22/04/2001
Category: Individual film directors, film-makers
ISBN: 9780253214140
Free Home Delivery
on all orders
Pick up orders
from local bookshops