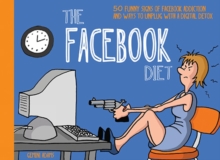 The Facebook Diet : 50 Funny Signs of Facebook Addiction and Ways to Unplug with a Digital Detox
Paperback
Information
Format: Paperback
Pages: 146 pages, 50 colour illustrations
Publisher: Live Consciously
Publication Date: 24/05/2013
Category: Humour
ISBN: 9780955465635
Free Home Delivery
on all orders
Pick up orders
from local bookshops
Reviews
Showing 1 - 5 of 8 reviews.
Previous | Next
Review by hjvanderklis
16/06/2015
In The Facebook Diet Gemini Adams presents 50 hilarious cartoons clearly indicating Facebook addictions and ways to overcome this habit and Unplug with a Digital Detox. With over 1 billion user Facebook is all about mass communication through status updates in words, pictures and hyperlinks always and everywhere. Friendships are reduced to clicked like button and comments on update posts.If you don't have a Facebook (FB) account then you are obviouslystuck in the MySpace or Friendster erasuffering from Social Media phobialiving in China, or worseunder a rock.You could say that Facebook is doing a far more effective job than religion at teaching us to "love thy neighbor." Still, the question remains: How good, bad, healthy, connecting, isolating, or addictive is Facebook? Yes, Facebook has a dark side that leads us into temptation. Many people just can't get enough, can't have a conversation, can hardly manage a meal, or watch a movie, let alone a visit to the bathroom without "tagging," "posting," "poking," "liking," "commenting," or "chatting" on Facebook. And so, you're watching in the mirror watching and reading this series of 50 answers to the question "You Know You're a Facebook Addict When…?" My top-4:you've given up your other addictions – alcohol, cigarettes, world of warcraft, and porn -so you can spend more time on Facebook.the guru you worship isn't the buddha, jesus, or allah, it's . . .Mark Zuckerberg.You've created a page for your imaginary friend, cat, car, or your dog.you really have no idea what Google+ or circles are. Adams suggests unplugging once in a while (that's why this book is part of the Unplug Series) - it's a wonderful world out there, you know. Just lean down, grab the plug and pull. It's easy. ~ Enjoy!
Review by celticlady53
16/06/2015
After reading this book I think that I am addicted to Facebook, as are many many people in this social internet age. We use Facebook for a variety of things, communication with family, sharing what is going on in our lives, recommending and sharing books and recipes and any other thing you can possibly think of we share. I saw myself in a lot of the pictures and descriptions. Am I embarrassed to say that I go on Facebook everyday?? Nope not one bit. So if you are like me you will love this book. A lighthearted book that good naturally pokes fun at our obsession. The author/illustrator did a wonderful job of writing a very entertaining book.I loved it. I highly recommend it to anyone looking for a light read.
Review by HenriMoreaux
16/06/2015
This is quite the humorous book, it takes a facetious look at facebook addiction and throughout the illustrations no doubt you will be able to spot a few traits people in your social circle exhibit.Comics/illustrated books are always hard to give feedback on as everyones sense of humor differs and usually it just comes down to was it amusing or a miss, and in this case I can say it was amusing.Would make a great fun gift for the facebook or computer addicted person in your life.
Review by foolplustime
16/06/2015
To be honest, personally speaking I didn't care for this book much. It's nice enough but I think I would like it more if it was ... dialled up a bit. I feel like I'm already familiar with most of the "You know you're a Facebook addict when..." one liners and the cartoons, while nice, aren't bringing anything particular to the party. I don't feel as though I could see a cartoon elsewhere and realise it's by Gemini Adams. Donning my "Maiden Aunt" hat, I'll mention there is one cartoon which borders on risqué territory, but there's none of the smutty humour so beloved of greetings card manufacturers; a big plus point in my book. I could really have lived without the "You're suicidal if you don't get more than 200 happy birthday messages" one but, again, that's just me.Although I didn't care for it, it does what it tries to do pretty well. In what is possibly the most helpful review statement ever: if you like it, you'll like it; if you don't, you won't. It's a nice little giftbook for somebody keen on Facebook - the type of thing you'd find next to the tills in the bookshop - and despite my complaints, I can think of several people in my life I could buy it for. It's ideal Secret Santa/thank you gift fodder.I'm going to give it 3 stars, which in my review structure is "It does what I expected it to do". If you aren't me, you may well like it more.
Review by TheCrow2
16/06/2015
A quite humorous cartoon book about Facebook and the addiction to Facebook. Many familiar symptoms I'm afraid.... Extra special giggle from me beacuse of the drawing of a puli dog and it's hungarian knowledge. :)And thank you for the signed copy!