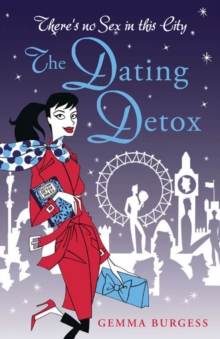 The Dating Detox
Paperback
Description
If you can't date anyone nice, don't date anyone at all...Dating is a dangerous sport.
So after her sixth successive failed relationship, romantically-challenged 20-something Sass decides she's had enough.The Dating Detox is born.
No men, no break-ups, no problem.The result? Her life - usually joyfully/traumatically occupied with dates, clothes and vodka - is finally easy.
Chastity rocks. No wonder nuns are always singing. Everything falls at her feet. Especially men.Will Sass break the rules? Why does fate keep throwing her in the path of the irritatingly amusing - and gorgeous - Jake?
Will she ever roll the dice and play again? Or is a love-free life too good to risk losing?For the post-Carrie Bradshaw, post-Bridget Jones, post-credit crunch generation of singles, life isn't beautiful, a bitch, or a beach.
It's a party.
Information
Format: Paperback
Pages: 432 pages
Publisher: HarperCollins Publishers
Publication Date: 01/12/2009
ISBN: 9781847561916
Free Home Delivery
on all orders
Pick up orders
from local bookshops
Reviews
Showing 1 - 3 of 3 reviews.
Review by shelleyraec
16/06/2015
I needed something light and fun to read and The Dating Detox fitted that bill perfectly. the characters are classic chick lit, Sass is a twenty something babe who works in advertising (apparently every single girl in London works in advertising), tired of her love life never quite working out she declares herself a date free zone. Predictably she meets the perfect guy practically the day after, whom she has to beat off with a stick for the next three months.While the plot is fairly transparent, there is a positive message about the benefits of being single which I liked. I don't get the whole need for immediate intimacy thing (ie sex on the first date - and I'm not that old), so to have a character in this genre step back and examine that is original.Sass is amusing, fun, bright and yet flawed. She has a strong voice which makes her easy to relate to and is less superficial than I expected.The secondary characters are appealing and believable. We all know a <i>cockmonkey<i> like Dean or have a best friend like Bloomie or Kate. Jake, as Prince Charming, of course is irresistable.I really enjoyed the sense of humor, Burgess's style is warm (if profane) but so readable.Entertaining and witty, Dating Detox is a great read.
Review by jolzyn
16/06/2015
It is a refreshing change to read something that is so different in the story plot. It tell the story of Sass, who vowed to take a break from dating after a consecutive six breakups and to her surprise, she totally enjoying her sabbatical time off. So much so, she rejected Jake's courtship. It was a fun reading seeing how she transformed to a happier person. However, she seems to have a mixed up over her feeling and thus making a mistake in rejecting Jake. I feel bad for her when she finally realised her mistake and trying to find ways to make amen with Jake.
Review by SaraRomanceLove
16/06/2015
Meh. Didn't love it, didn't hate it. <br/>The predictable-happy finale was good and earned it its third star.<br/>However this book didn't capture me very much, the plot was a bit flat… it lacked tension. Definitely wasn't gripping. Really, half of the book was practically the narration of useless day-to-day activities; the author spent too many words describing the surroundings, the group dynamics, the preparation and development of the parties or weekends. I felt that the Love Story, which for me should be the focal point in a chick-lit novel, was left with a meagre 20% of the book at most. I didn't have to move to next chapter or die; I just sort of did because, unless a book is truly horrendous, I usually finish what I've begun to read.<br/>The writing style was similar to the other book I've read from Burgess, which was a plus. You really feel like you're in the head of the protagonist and she's often funny and witty. However, the overall book was definitely inferior by far to 'A Girl Like You', which, unlike this one, I loved. <br/>