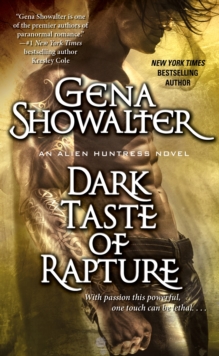 Dark Taste of Rapture
Paperback
Description
Beautiful Noelle Tremain has just completed AIR (Alien Investigation and Removal) training and successfully navigated her first mission.
Life is perfect. Until her best friend is turned into a vampire and is trying to destroying her day life.
She's then partnered with Hector Dean who is the sexiest, most powerful man she's ever met, able to atomize his arm and punch through anything - but he's also an emotionally distanced hard ass willing to do anything to avoid her.
To stay on top of their case, she might just have to find a way on top of him.
But oh, the naughty things a girl will do for her job . . .
Information
Format: Paperback
Pages: 464 pages
Publisher: Simon & Schuster
Publication Date: 03/09/2011
ISBN: 9781439175781
Other Formats
EPUB from £4.99
eAudiobook MP3 from £12.59
Free Home Delivery
on all orders
Pick up orders
from local bookshops
Reviews
Showing 1 - 3 of 3 reviews.
Review by MaryinHB
16/06/2015
The story picks up where the last Alien Huntress left off with Ava and McKell about to marry and Noelle feeling like she just lost her best friend. Noelle wishes that she could find someone like Ava has and *shocker* shows a bit of a softer side. Noelle and Ava have graduated from their training and are now full fledged agents for AIR. Noelle quickly solves a case through her wits and strength and moves on to another one where alien females are being abducted to be sex slaves. She is partnered with Hector Dean who has a bit of a past himself and closes himself off to any thoughts of love since he has a physical secret that is deadly to those he loves -- or so he thinks.Hector and Noelle have a love hate relationship and it is fun to watch them spar both mentally and physically. The story takes a unique turn when it comes to virgins that might surprise you. Hector makes the perfect brooding hero while Noelle's past of growing up in luxury was not all it appears. The case that they solve together seems like the beginning a long and positive relationship. Dallas and Jaxon, along with Mia Snow, make brief appearances throughout the book. Wow! I haven't had my toes curl or wanted to skip directly to the romantic parts in a story in a long time. Showalter really stepped up the hotness in this one. I really felt connected with Noelle and found myself memorizing bits of her dialogue to use at those moments where you need a good comeback. She is smart and snarky with some unpleasant truths of her own that she is hiding. I have a special place for Showalter's books and especially the AI series since it was the first paranormal romance that I read. I don't think these books need to be read in order since each one reflects on a new character, but it would probably help to keep continuity. I also recommend going back to read her YA Alien Huntress series, Blacklisted and Red Handed.
Review by Trisha-
16/06/2015
I loved this book from the first page. It had sizzle, hotness, and spice. What happens when you have two characters that sacrifice themselves relentlessly for the well being of others/victims/ and friends. You get Hector Dean and Noelle Tremain. Hector is a hot, loyal, and nibble-lishous. He has a dark past filled with pain and torture and has dedicated his life to helping others that suffer injustice. He is an AIR agent and charged with being one of the instructors training Noelle and Ava. The story begins with crossing into Gena Showalter's book of Ecstasy in Darkness. This story describes the training the girls go through and the mischievous actions that Noelle pulls to make her way through the training. The story then skips to one year later and the story carries us through the sizzle and burn of the relationship of Noelle and Hector. Noelle is determined to convince Hector he should be in a relationship with her and Hector is determine to resist Noelle by any means possible. The problem is -Mia has teamed Noelle and Hector up to help solve a murder case. I love it when I get to read about a kickass herione with grit and iron. And when there is a presence of a really hot loyal to the bone hero. Check it out if you like romance, suspense, and hotness. Hope I get to read Dare's story. I know there has to be a story with his mysterious self.
Review by momgamerwriter
16/06/2015
"His eyes were an intense gold and utterly piercing, the rest of his features all kinds of intimidating. From the hard slash of his dark brows, to the blade of his nose, to the aggressive slant of his lips. Throw in the rough angles of his chin, and you had a visual definition for hardass." Hector Dean is the epitome of every woman's fantasy. An Alpha Male with baggage, but at the same times he's protective, encouraging, loveable, and raw sexual energy. When we first meet him he is a little rough around the edges, hard, and distant. But over the course of the book we watch as Noelle breaks down his barriers. Her quick wit and smart mouth, rips through his walls and becomes buried deep within his skin. The constant tug-of-war between the two was almost unbearable. Gena Showalter knows how to create sexual tension. After the first encounter between Noelle and Hector against the wall when she sneaks out of the AIR training camp, I was begging for those two to seal the deal. With every piercing stare, smoking hot touch and naughty thought there was no denying that when those two did get together, it would be HEAVEN ON FIRE. And SPOILER ALERT: it was blazing HOT!Not only do we get the magnetic story of Hector and Noelle in this book, we also get a look deeper into the lives of some of the other characters from previous novels. There is Dallas, who reminds me a lot of Paris from The Lords of the Underworld series. Sexy, mysterious, sleeps around, but slightly tortured by that fact. I can't wait to see where his story leads. I think he is one of the most dynamic characters in the Alien Huntress series. His ability severely hinders him and he is often torn by the visions that he sees. I have a feeling that whoever he ends up with is in for a stormy ride!Sweet, sweet badass Ava ends up marrying the sexy vampire McKell. Ava like Noelle, appeared soft, charming, and innocent at first glance, but underneath the façade was a strong Noelle protecting fighter. The constant banter between Noelle and Ava was both hilarious and telling. They were the kind of best friends movies are made about, ride or die, or in their case, crash a car into an ex boyfriends house. Yeah, that happened. When Ava agrees to marry McKell, Noelle is both happy and heartbroken. Her life is not complete without Ava in it and when she decides to become a vampire she felt like she was losing her world. Lucky for her though, she had Hector to occupy her time and give her another reason to exist, like almost burning down her shower from ecstasy. Yeah, that happened too.All in all, this was one of the BEST books I have read this year. Intense, passionate, fun, and humorous, Gena can tell a story like no other. She will have you cursing, yelling, rooting, and swooning over her characters. Her descriptions are impeccable. If you can't clearly imagine the location or person she describes then you are not reading them right. I don't want to give away too many spoilers from the book, but I have to say this story is one that will leave you on the edge of your seat sweating bullets, over and over again! I highly recommend this book and if you are scared of reading the books out of order, don't worry because I did and this book works easily as a standalone title!Originally Reviewed On: MotherGamerWriter.com