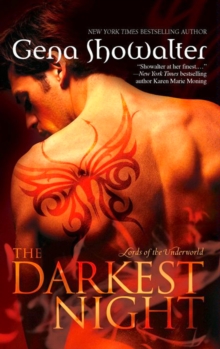 The Darkest Night
Paperback
Description
Every night for thousands of years, he has been murdered and sent to the fires of hell...Cursed by the gods, bound to a rage-filled spirit he can barely control, Maddox has all but forgotten his humanity - until Ashlyn Darrow comes to his prison in Budapest seeking help.
Maddox finds his anger is soothed by her presence. But he can't help question why a beautiful innocent has come looking for the Lords of the Underworld.
Ashlyn is tortured by voices from the past - and her knowledge might be enough to free Maddox from his death-curse.
When an extreme sacrifice is demanded, will Maddox's superhuman strength be enough to save them both?
Information
Format: Paperback
Pages: 384 pages
Publisher: Harlequin (UK)
Publication Date: 18/09/2009
Category: Fantasy
ISBN: 9780778303596
Free Home Delivery
on all orders
Pick up orders
from local bookshops
Reviews
Showing 1 - 2 of 2 reviews.
Review by alesi1
16/06/2015
I really enjoyed this book. I'ts got Passion from the fist moment you start reading it, it's got a good twist to the story with all the different goods and demons. It is very easy to follow and I love, love the love story and how a demon was able to be tamed. I can't wait for all the rest of the Demons love story to be written. I also like the way she makes the warrior demons be seen as angels.
Review by elliepotten
16/06/2015
I'd been looking at this series for a while before finally succumbing to the scrummy covers and buying the first four books. This was my first Showalter and while it won't be my last, it wasn't as good as I thought it would be, based on her reputation as a paranormal romance writer.The Lords of the Underworld are a group of big, strong men, created as warriors to the gods. After a terrible crime - opening Pandora's box and releasing the horrors inside - each has had a demon fused into their very being: Violence, Disease, Promiscuity, Pain, Wrath and more. This first novel mainly concentrates on Maddox, who has to live with Violence.He is a tormented, brooding, muscular alpha male (so far, so good, right?) condemned to die every night and burn in hell until morning, after a further misdemeanour in which Violence took over and he killed Pandora herself. He is sent out of their Budapest castle one night when intruders are spotted on the hillside. Besides a new batch of Hunters, the men who have plagued the Lords through history, he discovers Ashlyn, a young woman who can hear every conversation ever held in every place she visits and who desperately seeks answers from the 'angels' on the hill. Against every instinct he possesses, Maddox manages to swallow his inner rage and takes her home to the castle, in a move that will turn all of their worlds upside down...It's a little complicated, and this is where Showalter does well. The mythology she creates - ancient gods, Pandora's box, deadly sins, tormented keepers - is fascinating and well plotted. The way each Lord copes with their burden is distinct and sympathetic, and the 'back story' is revealed in gradual stages, with plenty of room for expansion as the series progresses.The big disappointment for me, sadly, was the romance aspect of the novel. I just didn't feel the chemistry between Maddox and Ashlyn! Every instinct whispered that the romantic scenes were meant to be steamy and exciting - but they weren't. Perhaps it was because Maddox seemed to feel an inexplicable urge to bed Ashlyn every time he came within ten feet of her, creating a wave of testosterone akin to that of a teenage boy in a porn shop. Perhaps it was because when they were together, too much was told instead of implied. Who knows? All I know is, this paranormal romance would probably have been a lot less disappointing and a lot more exciting WITHOUT so much romance.That said, it was a good little 'brain candy' read and I'll still be continuing with the series. Each book will deal with a different Lord, so perhaps I'll find a sin that's more my style later on!