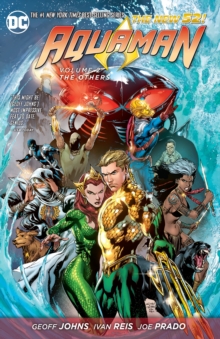 Aquaman Volume 2: The Others TP (The New 52)
Paperback
Description
Long before the King of the Seven Seas joined the Justice League, Aquamanwas a part of another super-team: The Others.
These young costumed adventurerstraveled the globe, each trying to find their own individual road to redemption. Six years later after a grisly murder, The Others are reunited.
They know onlyone man could be responsible: Black Manta.
Aquaman must lead the charge to stophis arch-nemesis, but will the years have fractured The Others just enough tokeep them from bringing this villain to justice?
By the critically acclaimed creative team behind Blackest Night GeoffJohns and Ivan Reis, Aquaman Volume 2: The Others is theheart-stopping follow up to the #1 New York Times best-selling AquamanVolume 1: The Trench.This volume collects issues #7-13, as well as the special #0issue.
Information
Format: Paperback
Pages: 160 pages
Publisher: DC Comics
Publication Date: 01/11/2013
Category: Superheroes
ISBN: 9781401242954
Free Home Delivery
on all orders
Pick up orders
from local bookshops
Reviews
Showing 1 - 1 of 1 reviews.
Review by nmhale
16/06/2015
Another fun romp with an underrated hero. This Aquaman adventure centers around a classic villain - the Black Manta. While Aquaman and Mera are meeting with Dr. Shin to learn about an Atlantean relic, a mysterious woman clad in primitive (and almost nonexistent) clothing crashes in on them. She wants to kill Shin, but Aquaman stops her, and it becomes apparent that they have history together. She tells him that someone is killing members of his old team, and he agrees to leave with her, ignoring Mera's demands for explanations. Shin knows the answers, though, and he quickly fills in the gaps, for Mera and the reader. Long ago, Shin hired the Black Manta to acquire some of Arthur's (Aquaman's) blood. At the time, Mantis wasn't a villain, just a diver willing to do rough work for money. Shin wanted proof of his theories, to regain his academic standing, and knew that Arthur's blood would reveal his special background. Arthur's father defended his son, though, thinking that the man was after more than just a sample, and the fight brought on a heart attack, which killed him. Arthur wanted revenge. He went after the Black Manta and killed him - only to learn that he had actually killed the Manta's father. The men found themselves locked in a relationship of hate and revenge. Aquaman joined a team of other superheroes, working together to stop Manta.Now, years after Arthur had shed his bitter past and also left his team, Manta is back, killing off his teammates and stealing the Atlantean relic each one wielded. Aquaman tries to find his surviving teammates, reconcile with them, and finish the Manta off completely. Will he be able to overcome his deeply rooted hatred of Manta and help the people he loves? I admit, I always thought of Manta as a silly foe, but this volume turned my opinion around full circle. Manta's character was vicious and scary. Also, he had a complicated back story that made some of his choices understandable, if still completely indefensible. The story was entertaining, sometimes intense, and introduced me to one of the odder team of superheroes I have read. The story balanced the serious and the funny, which is becoming a trademark of this series. The characters are interesting, and the relationship between Mera and Aquaman is romantic but still holds a lot of mystery. I liked learning the back story of this new version of Aquaman, and though I enjoyed the first volume more, this was a nice follow up.